Hogs Hang on to Defeat Moose in Manitoba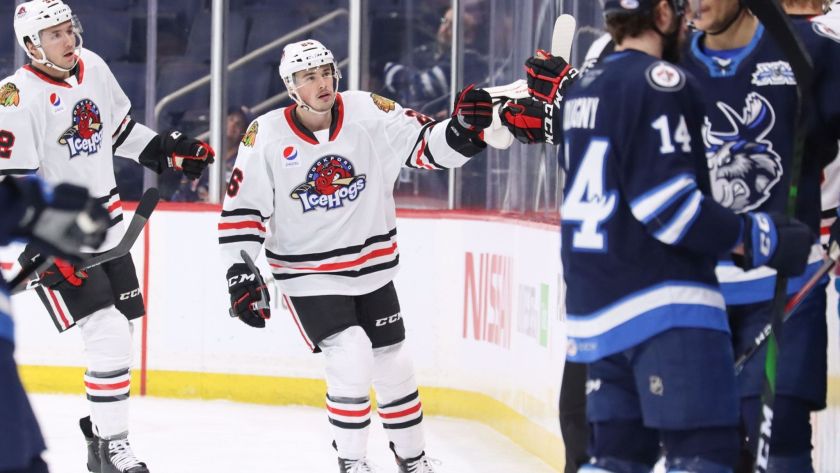 1st
2nd
3rd
Final

—
—
—

—
—
—

Tuesday, July 27
WINNIPEG, Man. - Alexandre Fortin and John Quenneville each netted a goal and Kevin Lankinen turned away 28 of 29 shots to lift the Rockford IceHogs over the Manitoba Moose 2-1 at Bell MTS Place on Wednesday night.
With the Moose on the power play just before the end of the first period, Leon Gawanke threw the puck behind the Rockford net for Seth Griffith. Griffith recovered the puck and passed it to C.J. Suess, who was waiting in front of the net. Suess fired a shot past Lankinen to break the scoreless tie with just 40 seconds remaining in the opening frame.
Rockford trailed 1-0 until midway through the second period, when Dylan McLaughlin rushed into the zone with Gabriel Gagne. Gagne floated a saucer pass to a streaking Fortin, who tapped the puck by Manitoba netminder, Eric Comrie, to even the score at one apiece.
The tie was broken 4:47 into the third period when Dylan Sikura curled atop the zone, turned toward the net and let go a wrist shot. Standing in the slot, Quenneville redirected Sikura's shot to beat Comrie and give the IceHogs their first lead of the evening. Quenneville's marker increased his goal streak to four games while Sikura's assist pushed his point streak to eight games.
The IceHogs will close out the season series with the Moose tomorrow night at 7 p.m. at Bell MTS Place.
---
GAME NOTES
Rookie forward Brandon Hagel set the IceHogs' season-long goal streak when he buried goals in back-to-back-to-back contests from Jan. 31-Feb. 4...However, John Quenneville scored Wednesday to extend his own goal-scoring streak to four games which set the team's new season-long streak.
Dylan Sikura dished an assist in Wednesday's win over the Manitoba Moose to increase his point streak to a career-high eight games in which he's deposited three goals and tossed eight assists...Not only is the streak the longest by any IceHog this season, but the stretch eclipses Sikura's previous career-high six-game point streak he set from Feb. 2-April 4 of 2019.
Kevin Lankinen stopped 28 of 29 shots on Wednesday to snap an eight-game winless streak...The victory is his first since Dec. 15 against the Toronto Marlies.