HOGS GET STUCK IN THE MUD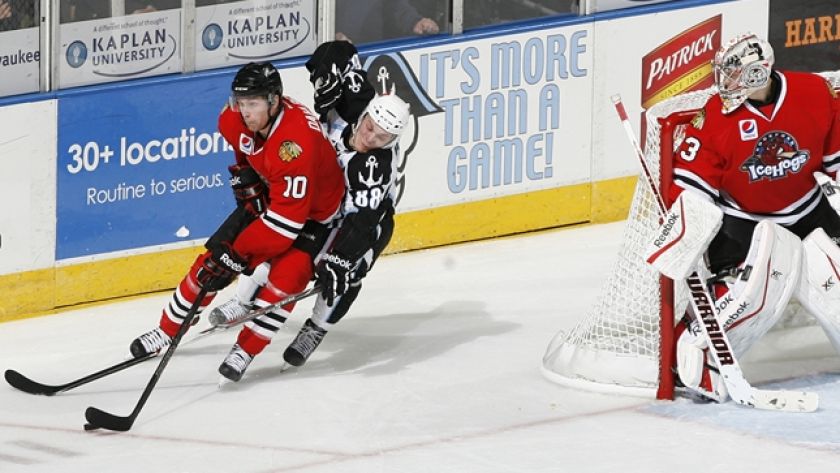 Week 5 Results
Thursday, Oct. 31: Charlotte 5 vs. Rockford 3
Friday, Nov. 1: Rockford 2 at Milwaukee 4
Sunday, Nov. 3: Grand Rapids 3 vs. Rockford 1

Week 6 Schedule
Wednesday, Nov. 6 at Grand Rapids, 10 a.m.
Friday, Nov. 8 vs. Iowa, 7:00 p.m.
Saturday, Nov. 9 vs. Iowa, 7:00 p.m.

Week 5 Recap:
Starting the week in sole possession of first place in the Western Conference, the Rockford IceHogs dropped all three of their games in Week 5 to bring their record to 7-5-1-0. Now sitting in fourth place in the Western Conference and second in the Midwest Division, the IceHogs are looking up at division rival Grand Rapids. The week started as Charlotte came to the BMO Harris Bank Center and beat the Hogs 5-3 despite Rockford's best efforts at a comeback. The next night, the IceHogs made the short trip up to Milwaukee to face off against the Admirals, but Milwaukee pulled out a 4-2 win over the Hogs with 38 shots being fired at the Rockford net. The week ended with a surging Grand Rapids team coming to Rockford and pushing the Hogs losing streak to three in a row by taking a 2-0 lead in the second and holding on to win a 3-1.

Bacon Bits:
-After picking up points in six-straight games (5-0-1-0), Rockford dropped all three contests in Week 5
-Rookie winger Mark McNeill leads Rockford with seven goals on the season and had his three-game goal scoring streak snapped on Sunday
-Defenseman Klas Dahlbeck notched his fourth goal of the season on Sunday and already has set a career high in goals and tied a career high with eight points through just 13 games this season
-The IceHogs have a power play goal in four straight contests and are 5-22 (22.7%) over that time frame
-Rockford has tallied a third period goal in 10 straight games, totaling 16 tallies in those 10 outings
-During that same 10 game time span, Rockford has scored a first period goal just three times, totaling five markers in the 10 contests
-Over their past 370 minutes of hockey time, Rockford has led for just 13:05 of that time, but are 3-3-0-0 in those six games
-Rockford's opponent has scored the first goal in 10 of the 13 games so far this season
-In five home games, Rockford has yet to carry a lead into the third period, but the team is 3-2-0-0 in those five games
-The IceHogs have allowed 30 or more shots on goal in 10 of their 13 contests this season
-After leading the AHL with 34 10-minute misconducts and 16 game misconducts a season ago, Rockford has just one in each category through 13 games this season

Hot Hog: Week 5
Klas Dahlbeck, Defenseman
Defenseman Klas Dahlbeck is riding a four-game point streak entering Week 6 and already has set a career high in goals (4) and matched his career high in points (8) through 13 games. The Katrineholm, Sweden native began Week 5 with an assist against Charlotte on Halloween then marked another helper on Friday night in Milwaukee. Dahlbeck scored his fourth goal of the season, Rockford's lone marker, on Sunday against Grand Rapids. His four goals lead all IceHogs defensemen and he is ranked tied for fourth on the club with eight points.

Upcoming Games:
Wednesday, Nov. 6 at Grand Rapids: It will be an early puck drop in Grand Rapids at 10 a.m. The IceHogs take on the Griffins for the second game in a home-and-home series. It's the third of 10 meetings on the campaign between the Midwest Division foes. The broadcast will start early at 9:30 a.m. with IceHogs Warm Up prior to the start of the game.

Friday, Nov. 8 vs. Iowa: Game time is 7 p.m. Rockford takes on the Iowa Wild for the first time in game one of two straight against Iowa in two nights at the BMO. It's also Los IceHogs Dos night at the BMO as the Hogs will wear specialized mariachi band themed jerseys for the game. Banda Aires de Guanajuato will be playing throughout the game.

Saturday, Nov. 9 vs. Iowa: The game will begin at 7 p.m. The IceHogs take on the Iowa Wild for the second night in a row and second of 10 matchups this season. The first 2,500 fans to the BMO will receive a Whoopee Cushion courtesy of Ferrellgas.

The IceHogs Broadcasting Network:
Catch every IceHogs game, home and road, in 2013-14 on WIFR's 23.2, "Antenna TV." The games can also be viewed on Comcast Cable Channel 436 or Mediacom 101 in the Rockford market and online through AHLlive.com. Fans can listen to the action for free on AHLlive.com. For a complete listing of TV stations carrying IceHogs games, visit IceHogs.com. Every broadcast will start with the IceHogs Warmup 30 minutes prior to puck drop.

Tickets On Sale for 2013-2014!
IceHogs individual game tickets are now on sale! Call (815) 968-5222 to reserve your seats for any IceHogs regular season game during the 2013-14 season. Tickets can also be purchased online at IceHogs.com, in person at the BMO Harris Bank Center Box Office in downtown Rockford, or any Ticketmaster outlet, including Wal-Mart. Tickets start at just $8.

Illinois Lottery Cup Series Standings
Teams Record Points
Rockford 1-0-0-0 2
Chicago 0-0-0-0 0

Upcoming Illinois Lottery Cup Games:
Nov. 29: Rockford at Chicago, 7:30 p.m.
Nov. 30: Chicago at Rockford, 7:00 p.m.
Jan. 18: Rockford at Chicago, 7:00 p.m.
Feb. 14: Chicago at Rockford, 7:00 p.m.