Hogs Fall at Home After Cooley's 45-Save Performance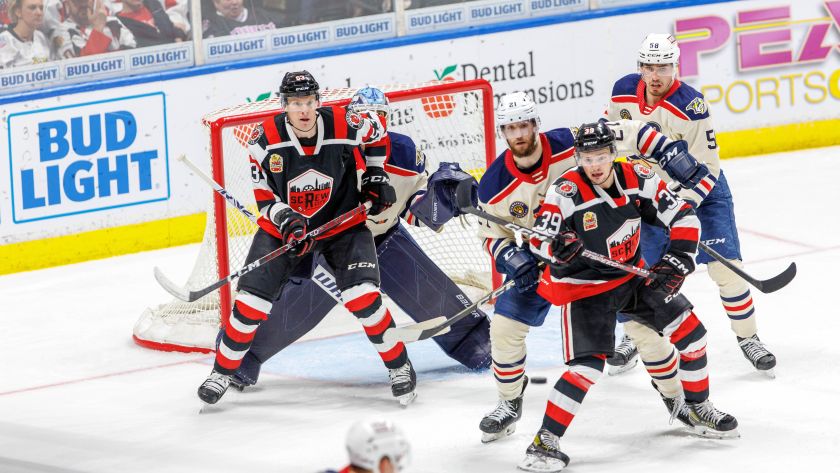 1st
2nd
3rd
Final

—
—
—

—
—
—

Monday, October 2
Rockford, Ill. – The rebranded Screw City IceHogs suffered a 5-1 loss to the Milwaukee Admirals on Saturday night at the BMO Center. Admirals netminder Devin Cooley made 45 stops to hold the IceHogs to one goal.
The Admirals snagged an early 1-0 lead in the first period on the power play. After a tripping minor against Buddy Robinson 47 seconds into the initial frame, Milwaukee forward Joakim Kemell shoveled the loose puck from Cole Schneider's attempt past IceHogs goaltender Arvid Soderblom at 1:11.
After getting hooked from behind by Milwaukee defenseman Xavier Bouchard, forward Brett Seney and the Hogs had a chance to even the score at 4:42 with a penalty shot, but Cooley made the save.
Milwaukee went on its third power play of the night and extended the lead at 2:12 in the second frame. Defenseman Rowan McKeown dropped back a pass to the right point, and defenseman Jordan Gross rocketed a slapshot past the blocker of Soderblom and gave the Admirals a 2-0 lead.
Cutting the lead in half to 2-1, forward Luke Philp deflected a shot from forward Rocco Grimaldi through traffic in the low slot past Cooley at 9:02 and netted his 25th goal of the season to put the IceHogs on the board.
Just before the start of the second intermission, Admirals forward Tim Schaller caught a pass from forward Tye Felhaber and launched a wrister past Soderblom at 19:38, lengthening the lead to 3-1.
The Admirals tacked on two goals in the final frame, including an empty-netter to extend the lead to 5-1. Forward Jimmy Huntington tallied a wrister past Soderblom on a breakaway at 7:27, and Schneider sent the empty-netter down the ice at 17:56 to put the final nail in Rockford's coffin.
Soderblom turned away 24 of 28 Milwaukee shots but was hit with the loss, and Cooley marked 45 saves on 46 Rockford shots to earn the win.

Tune In LIVE on the IceHogs Broadcast Network Presented by BMO
Watch and listen to every game this season on the IceHogs Broadcast Network presented by BMO! Listen from your favorite device, at home, or on the road at IceHogs.com and on the IceHogs app and watch LIVE on AHLTV and selected games on 23.3 Circle TV! Fans can also tune in on all of Mid-West Family's local stations including 104.9 The X, B103, 95.3 The Bull, and Rockford Greatest Hits 100.5 and featured on Rock River Current, the Stateline's premiere source for local events, news and culture.