HOGS FALL 3-1 IN IOWA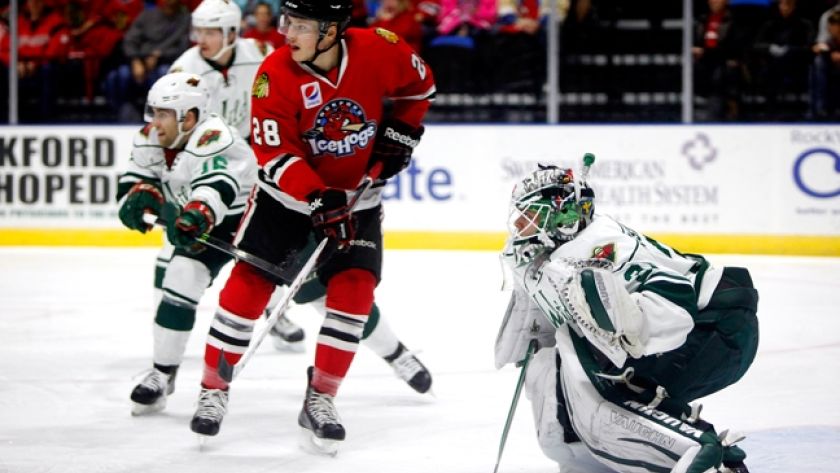 York solid in loss for Rockford

Des Moines, Iowa - Despite a gritty effort in their third game in three days, the Rockford IceHogs dropped a 3-1 contest to the Iowa Wild on Sunday at the Wells Fargo Arena.

The loss ended Rockford's five-game point streak (4-0-1-0) and the Wild ended a nine-game home losing streak. Allen York was solid in his IceHogs debut, making 35 saves, but it wasn't enough.

For the third time in three weeks the IceHogs were a part of a teddy bear toss and on Sunday, Iowa wasted little time getting the promotion out of the way. Just 26-seconds into the game Zack Phillips capitalized on an IceHogs giveaway in their own zone and beat York for his fourth goal of the season.

Iowa scored early on in the second period to extend their lead to 2-0. Carson MacMillan picked up a loose puck in the IceHogs slot and fired home his third goal of the season at 2:37 of the middle frame.

Klas Dahlbeck found the score sheet later in the second period to cut the Hogs deficit in half. Dahlbeck picked up an Adam Clendening pass and fired his eighth goal of the season over Darcy Kuemper at 15:32 to make it 2-1 at the second intermission.

In the third period Tyler Graovac stretched the Iowa lead back to a pair. Graovac picked up a Kris Foucault pass and flipped his fourth goal of the season under the cross bar and in at 9:09.

In a matchup of the AHL worst home power play and worst road (and overall) penalty kill, Rockford held the Wild to 0-7 on the power play, including two 5-on-3 power plays. Kuemper finished with 37 saves to earn the win.

Next Home Game: Saturday, Dec. 21 vs. Milwaukee Admirals at 7 p.m. The Hogs take on their Midwest Division rival Milwaukee Admirals on Bryan Bickell bobblehead night. The first 2,500 fans will pick up the first of three in the Champions series bobbleheads, compliments of Dental Dimensions.