HOGS DROP TWO CLOSE GAMES IN WEEK 16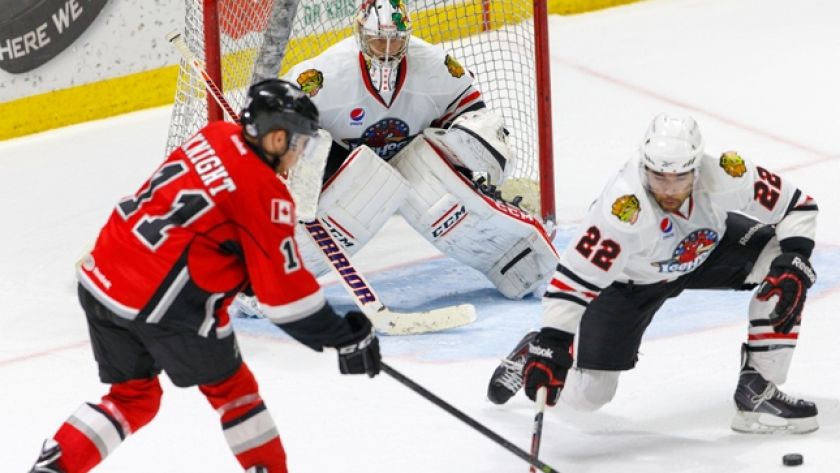 Hogs set for four game week in Week 17
Week 16 Recap:
The IceHogs found themselves in a pair of tight games during Week 16 and were only able to come away with one of the four standings points at stake. The Hogs blew a two-goal lead in a School Day game at the BMO on Wednesday, before eventually falling in overtime to the Abbotsford Heat, 4-3. After a rough travel to the Allstate Arena in Rosemont, the IceHogs were defeated by the Wolves in a tough 2-1 Illinois Lottery Cup contest. The week ahead shows four games on Rockford's schedule, including three straight against the Midwest Division rival Milwaukee Admirals.
Week 16 Results:
Wednesday, Jan. 15: Abbotsford 4 vs. Rockford 3 OT
Saturday, Jan. 18: Rockford 1 at Chicago 2

Week 17 Schedule:
Monday, Jan. 20 vs. Toronto, 1 p.m.
Friday, Jan. 24 at Milwaukee, 7 p.m.
Saturday, Jan. 25 vs. Milwaukee, 7 p.m.
Sunday, Jan. 26 at Milwaukee, 5 p.m.

Bacon Bits:
-Rockford had their streak of eight straight games with a power play goal come to an end on Saturday in Chicago while going 0-4

-The IceHogs committed a season low two penalty minutes on Saturday against the Wolves

-The Hogs penalty kill has held the opposition without a power play goal in three of their last four games

-Prior to that four-game stretch, Rockford had given up a power play strike in nine straight outing

-Rookie forward Pat Mullane has three goals in his last six games after getting held without a goal over his first 26 career AHL tilts

-Beginning on Friday, Rockford will play Milwaukee nine times over their final 33 contests, including three straight days this weekend

-Goalie Jason LaBarbera has started six of the last seven games for Rockford since getting assigned to the IceHogs on 1/4/14 and is averaging 32.17 saves per game

-Winger Terry Broadhurst has points in four of his last six contests dating back to 1/5/14 totaling 1g-4a-5pts with a plus/minus rating of+2

-Rockford has scored a first period goal in seven straight games dating back to 1/4/14, totaling eight goals

-After their 2-1 loss on Saturday to the Wolves, Rockford's road record against Midwest Division opponents dropped to 1-8-1-1 on the season

-The IceHogs have 11 more road contests remaining against Divisional foes Chicago, Grand Rapids, Iowa and Milwaukee

-Winger Jeremy Morin has been held with fewer than two shots on goal in a single game just once this season with Rockford (10/11/13 vs. Lake Erie-1 SOG)

-Morin has at least one shot on goal in a franchise record 154 straight games and was last held without a shot on goal in an AHL game on 11/6/11

-In 184 career AHL games, Morin has been held without a shot on goal in just four of them, including 1/15/11 when he left after the first period due to injury

-The Hogs have fared well in one-goal games this season (10-2-4-2), but uncharacteristically lost a pair of one-goal contests this week.

Hot Hog: Week 16
Forward, Garret Ross

Riding a two game point streak coming into Week 16, Garret Ross continued the streak with his fourth multi-point effort (1g-1a) of the season against Abbotsford on Wednesday. On Saturday, with the Hogs down by a goal late in the game against Chicago it was Ross who almost pulled some late game heorics. The rookie forward whacked the puck to the back of the net but the whistle had blown and the refs waived off the goal. Despite being held off the score sheet on Saturday, Ross now has points (2g-2a) in three of his last four games and has compiled 20 points on the season with a plus/minus rating of +7 in 40 games for Rockford.

Upcoming Games:
Monday, Jan. 20 vs. Toronto Marlies: The opening face off will be at 1 p.m. in a day game on Martin Luther King Jr. Day. The first 1,500 kids (14 and under) to the BMO will receive a drawstring bag courtesy of Pepsi. Following the game, all fans with ice skates will be allowed onto the ice to Skate with the Hogs.

Friday, Jan. 24 at Milwaukee Admirals: Puck drop is set for 7 p.m. as the IceHogs travel to Milwaukee for just the fourth matchup between the two Midwest Division rivals. This game also starts a three games in three days set between the Admirals and IceHogs.

Saturday, Jan. 25 vs. Milwaukee Admirals: Game time is 7 p.m. The IceHogs host the Milwaukee Admirals in the middle game of a three game set for the IceHogs annual Pink in the Rink night. In support of breast cancer awareness, the IceHogs will wear special sweaters that will be auctioned off at the game and the BMO ice surface will be dyed pink for the contest. The first 5,000 fans to the BMO will receive Thunder Sticks thanks to Swedish American.

Sunday, Jan. 26 at Milwaukee Admirals: Beginning at 5 p.m., the Hogs head to Milwaukee once more for the rubber match in this three game, weekend set. The tilt is the final game in a busy four-game week for the IceHogs during Week 17.

The IceHogs Broadcasting Network:
Catch every IceHogs game, home and road, in 2013-14 on WIFR's 23.2, "Antenna TV." The games can also be viewed on Comcast Cable Channel 436 or Mediacom 101 in the Rockford market and online through AHLlive.com. Fans can listen to the action for free on AHLlive.com. For a complete listing of TV stations carrying IceHogs games, visit IceHogs.com. Every broadcast will start with the IceHogs Warmup 30 minutes prior to puck drop.

Tickets On Sale for 2013-2014!
IceHogs individual game tickets are now on sale! Call (815) 968-5222 to reserve your seats for any IceHogs regular season game during the 2013-14 season. Tickets can also be purchased online at IceHogs.com, in person at the BMO Harris Bank Center Box Office in downtown Rockford, or any Ticketmaster outlet, including Wal-Mart. Tickets start at just $8.