HOGS DEVOURED BY WOLVES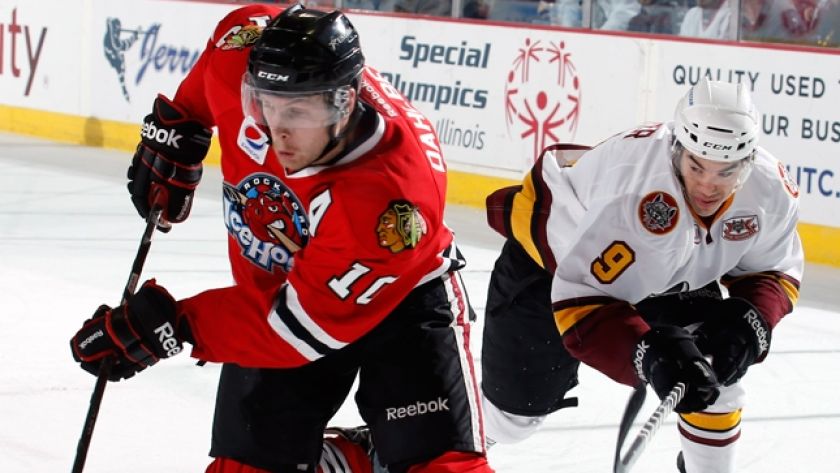 Rockford falls 7-1 in Rosemont

Rosemont, Ill.- The goals came early and often against the Rockford IceHogs on Friday as they fell 7-1 to the Chicago Wolves at the Allstate Arena.

The seven goals marked a season high allowed for the Hogs as did the six goal loss.

While skating 4-on-4 early in the first period, the Wolves capitalized to grab the 1-0 lead. Taylor Chorney picked up a Corey Locke pass and beat Kent Simpson from the right face-off circle at 3:08.

Then the IceHogs penalty kill coughed up two markers to put them in a 3-0 hole. Ty Rattie was first to claim a power play strike when he pounced on a Locke rebound and knocked in his sixth goal of the season at 7:41. Two minutes later it was Shane Harper's turn to ding the Hogs penalty kill unit as he knocked home his fifth tally, chasing Simpson from the game at 9:41.

In the second period, Chicago scored their first goal of the night while 5-on-5. Dmitrij Jaskin shelved his fourth goal of the season over Mac Carruth at 2:15 after Pat Cannone knocked down an IceHogs clear out attempt. Chorney's second power play goal at 8:38 of the second made it 5-0, and marked Chicago's third tally on the man advantage.

The offense kept rolling in the third period for Chicago. Jaskin finished off a Chicago two-on-one breakaway with Cannone and buried his second tally of the game just 34-seconds into the final frame.

Christian Hanson redirected home the Wolves seventh goal of the game and his first of the season to stretch the Hogs hole to 7-0 off of a Cade Fairchild shot at 13:34.

The only blemish on Jake Allen's record came late in the third period when Terry Broadhurst tipped a Brett Skinner shot past the Wolves' puck stopper at 16:24 for his sixth marker of the season.

Rockford finished 1-6 on the power play while Chicago was 3-8.
Next Home Game: Saturday, Nov. 30 vs. Chicago Wolves. Puck drop is 7 p.m. The IceHogs host the Wolves in the third Illinois Lottery Cup game of the season. The first 2,500 adults (21+) to the BMO will receive a scarf courtesy of Bud Light. The game is also Teddy Bear Toss Night. The IceHogs encourage fans to bring teddy bears to the game and throw them on the ice after the first IceHogs goal. The teddy bears will be donated to local charities and hospitals.