HOGS CRUISE TO 6-1 WIN, SWEEP MONSTERS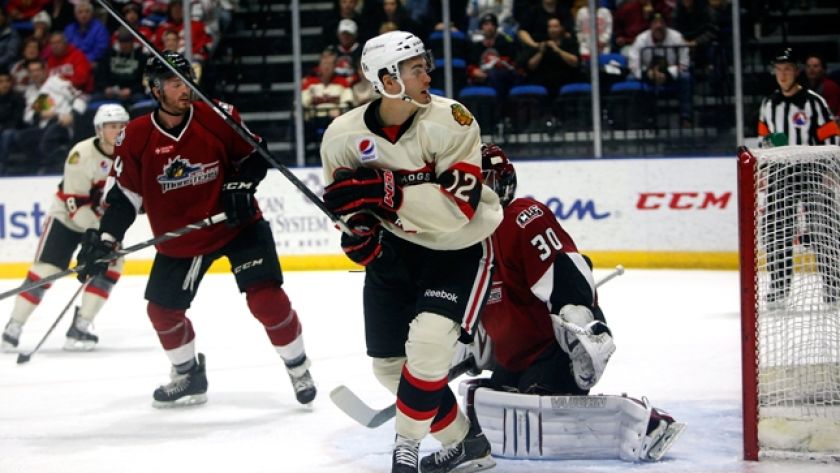 Rockford's special team pace them to the win

Rockford, Ill. – Special teams powered the Rockford IceHogs to their most lopsided victory of the season on Saturday as they toppled the depleted Lake Erie Monsters 6-1.

The IceHogs power play unit finished the game 3-for-5 while the penalty kill stopped all six of Lake Erie's chances.

As an IceHogs power play expired in the opening frame, Brett Skinner took a shot from outside the faceoff circle that Brandon Mashinter redirected past Lake Erie goaltender Sami Aittokallio to put the Hogs up 1-0 at 10:15.

The Hogs offense picked up in the middle stanza with two tallies less than two minutes apart to extend their lead. Jeremy Morin ripped a shot that found its way to the back of the net at 9:05 in the second to push the score to 2-0.

Then, after getting his shot tipped in during the first period, Skinner got a goal of his own. While on a power play, the defenseman rifled a shot from the point that lit the lamp for his first goal of the campaign to make it a 3-0 lead at 13:49.

Lake Erie stopped the Hogs' offensive surge and got on the board at 14:44 in the middle frame. Mike Sgarbossa fed Andrew Agozzino and the winger backhanded the puck past Jason LaBarbera to make it a 3-1 contest.

The IceHogs weren't quite done with the scoring during the second period however. Joakim Nordstrom picked up a loose puck, skated towards the Monsters net, and sent a backhander that trickled past Aittokallio to give the IceHogs a three-goal cushion once again at 4-1.

Then, just seven seconds into a power play, Mark McNeill got a piece of a shot by Klas Dahlbeck that found its way past Aittokallio to stretch the lead to 5-1 with 11:23 left in the game.

The IceHogs tallied once more on the night as Pat Mullane, on a pass from Dahlbeck, skated around Lake Erie's defense to flick the puck in to notch his second goal of the season and give the IceHogs a 6-1 victory over the Monsters and sweep the weekend set.

With four assists in this game, Dahlbeck tied Brian Connelly's record for most assists in a single game in IceHogs history. The Swedish defenseman now shows 14 assists in 39 games this season, besting his five helpers in 70 games from last season.

Lake Erie started the contest short a skater due to injuries and recall to Colorado. The Monsters then lost two more skaters, Bryan Lerg and Markus Laurdisen, to injury and played more than half the game with just 15 players.