HOGS COMEBACK FALLS SHORT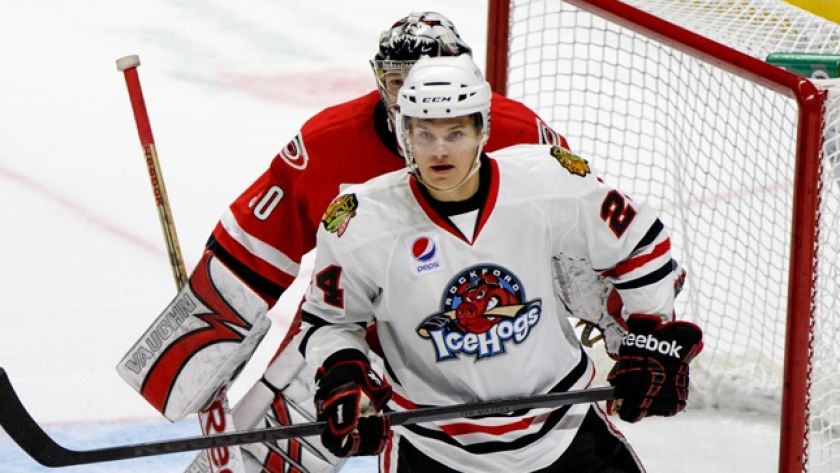 Rockford, Ill.-
The Rockford IceHogs have been living on the edge at the BMO Harris Bank Center as they have overcome being down in the third period to win in each of their first three home games. The comeback wasn't enough tonight for a fourth time for the Hogs as the Charlotte Checkers were able to close out a surging Rockford team to win 5-3.
Being down 3-0, Rockford was able to answer for the first time on the night as Garret Ross found the net after the puck was bouncing around in the crease and Checkers goaltender John Muse was unable to cover. The goal marked the first time the reigning AHL Player of the Week was scored on this season as Muse had 154:03 minutes of shutout hockey over his first three games to begin the season. The goal made the game 3-1 with 5:38 left in the second period.
Charlotte winger Jared Staal was called for cross-checking to put the IceHogs on a 5-on-3 powerplay and the IceHogs took full advantage. Mark McNeill scored the first power-play goal of the night for the IceHogs at 3:34 into the third period. The centerman rifled a shot past Muse to bring the Hogs within one at 3-2.
Then, with the Hogs still on a powerplay, defenseman Joe Gleason recorded his first professional point when he rifled a shot at the Checker's net that was tipped past Muse by Jimmy Hayes with 14:32 left in the game. The three straight goals tied the game at 3-3 as the IceHogs overcame a third period deficit once again.
Charlotte wouldn't let the three goals go unanswered however as Aaron Palushaj went short-side on Antti Raanta to take the lead back at 4-3 with 12:20 left in regulation. The Checkers put the game away with an empty-net goal with just 1.5 seconds left to finish the game at 5-3.
The Charlotte Checkers were the first to tally on the night as center Victor Rask capitalized on a turnover in the neutral zone. Rask headed into the IceHogs defensive zone on a break-away and sent a wrister into the back of the net at 10:44 in the first period to make the score 1-0.
Chris Terry redirected a Keegan Lowe shot past Raanta for his sixth goal of the season, making the score 2-0 just 41 seconds into the second period.
Charlotte continued their onslaught at 11:52 in the second as Beau Schmitz found Rask streaking toward the IceHogs net and the center found the back of the net for the second time to make the score 3-0.