HOGS CLAIM SECOND ILLINOIS LOTTERY CUP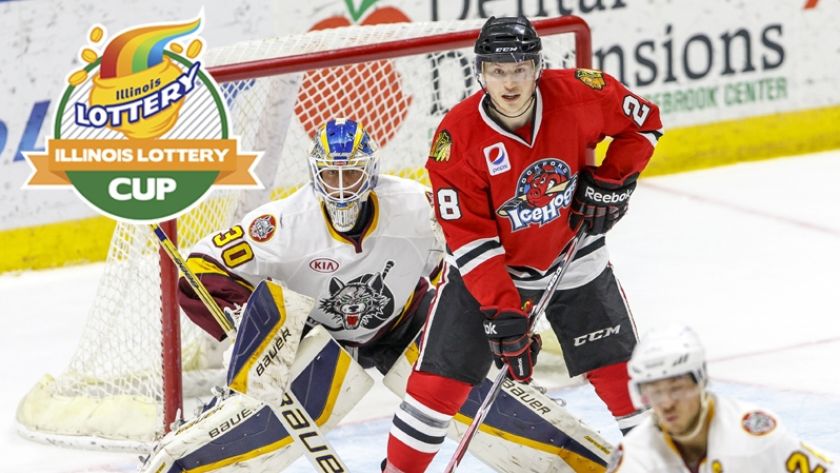 Chicago, Ill. – With a 4-3 win at Allstate Arena on Sunday, the Rockford IceHogs have staked claim to the Illinois Lottery Cup for the second time in its four year existence.

The Illinois Lottery Cup is awarded annually to the top American Hockey League team in the state of Illinois. Despite having one head-to-head matchup with the Chicago Wolves remaining on the 2014-15 schedule, Rockford's win on Sunday coupled with a 7-3-1-0 record against the Wolves secured the cup's return to Rockford.

"The Illinois Lottery Cup is representative of a spirited, intrastate competition between two fine Illinois hockey teams," said Illinois Lottery Director Michael Jones. "Congratulations to the Rockford IceHogs for capturing this year's Cup -- and for setting the stage for an exciting conclusion to the American Hockey League season."
"Our organization has had an outstanding year on and off the ice. Winning the Illinois Lottery Cup against a team as skilled as the Wolves is a testament to the work and dedication our coaching staff and players have to the Rockford franchise," said RAVE Executive Director Troy Flynn. "We look forward to the final Lottery Cup match up against the Wolves on April 17th at the BMO Harris Bank Center and a push towards the playoffs."

After the Peoria Rivermen, then members of the AHL, took the inaugural championship in 2011-12, Rockford won its first Illinois Lottery Cup during in 2012-13. The IceHogs combined for 13 total victories over the Rivermen and Wolves during the 2012-13 campaign.

The Illinois Lottery Cup brings a new level of excitement to the regular season games played between the IceHogs and Wolves. Fans are able to get in on the fun as well as the Cup is on display at each game between the two squads for photo opportunities. Additionally, special in-game promotions, such as the "Illinois Lottery Powerball Toss" has provided fans with free instant lottery game tickets.

About the Illinois Lottery
Founded in 1974, the Illinois Lottery has contributed over $18 billion to the state's Common School Fund to assist K-12 public schools, as well as hundreds of millions of dollars to the Capital Projects Fund and to special causes like Illinois Veterans, the fight against breast cancer, MS research, and assistance for people living with HIV/AIDS. In addition to playing in-store, the Illinois Lottery offers online and mobile play for Mega Millions, Powerball and Lotto at www.illinoislottery.com. Players must be at least 18 years old.