Hogs Can't Overcome Griffins' Four Straight Goals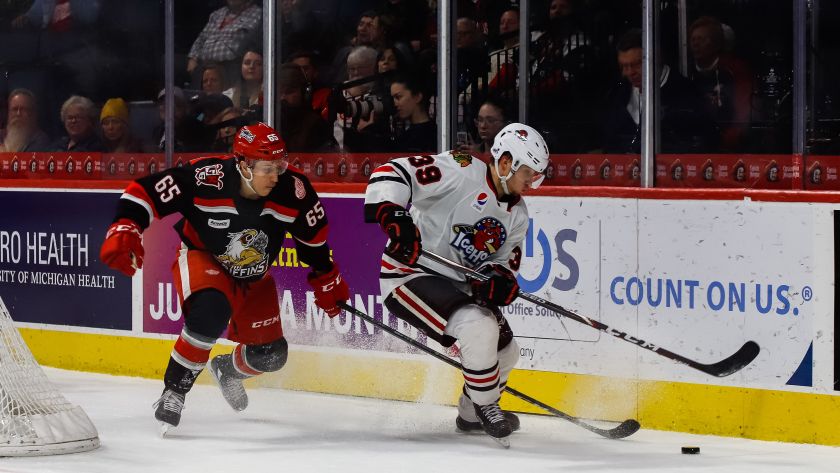 1st
2nd
3rd
Final

—
—
—

—
—
—

Tuesday, July 27
GRAND RAPIDS, Mich. - MacKenzie Entwistle opened scoring in the first period, but the Rockford IceHogs surrendered four straight goals to the Grand Rapids Griffins and fell 4-1 at Van Andel Arena on Friday night.
Rockford broke the scoreless tie 11:55 into the contest when Griffins netminder, Kevin Poulin, came out of the net and sent a puck up the right-wing boards that Entwistle intercepted. Entwistle turned and wristed a shot past a scrambling Poulin to put the Hogs up 1-0.
It was all Grand Rapids after that, though, with Dominik Shine evening things up before the end of the 1st, Chase Pearson giving the Griffins the 2-1 lead in the second and Matthew Ford and Chris Terry each tallying in the third to secure the victory for Grand Rapids.

---
GAME NOTES
MacKenzie Entwistle scored for the second time in the last three games...with the goal, he now leads the active IceHogs roster in rookie goals with seven and rookie points with 17...Brandon Hagel previously led all Rockford rookies with 13 goals and 21 points prior to his recall to the Blackhawks on Jan. 16.
Kevin Lankinen stopped 33 of 36 shots in the losing decision and has now gone winless in a career-long six straight games.
The IceHogs have only managed to score three goals in a game twice in the last 12 contests. The club holds a record of 16-1-0-1 record when scoring more than two goals this year and are 3-18-1-0 when tallying two or fewer goals. Dating to last season, the Hogs have won 46 of 52 games when scoring more than two goals (46-3-1-2).