HOGS BOUNCE BACK, HAVE POINTS IN 9 OF 10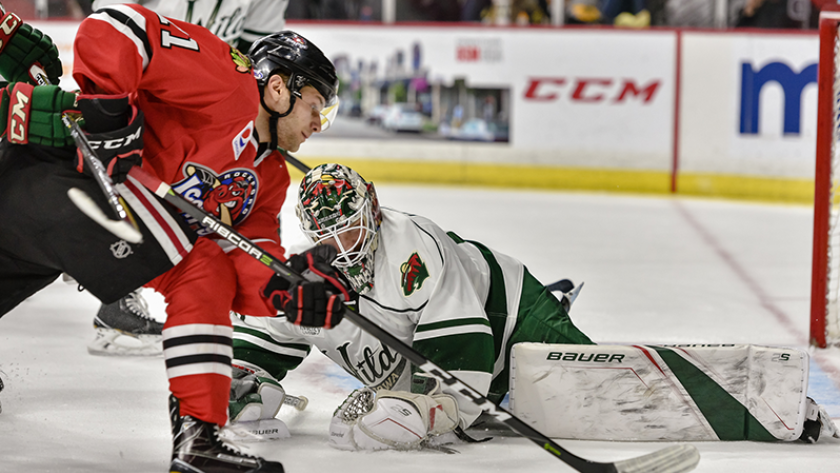 Des Moines, IA. – Jacob Nilsson scored his first AHL goal on the power play in the second period and it proved to be the game-winner as the Rockford IceHogs skated to a 4-2 victory over the Iowa Wild Sunday night at Wells Fargo Arena.
The IceHogs took five of six possible points in their weekend three-in-three, all against Central Division rivals. Rockford has earned at least a point in nine of its last 10 contests and is now tied for second place in the division.
Nilsson's game-winning goal came at the 16:44 mark of the second period. The 25-year-old forward converted on the power play off the rebound of a Lucas Carlsson shot from the point.
A one-goal lead was all the IceHogs needed in the third period. Rockford goaltender Anton Forsberg and the IceHogs defensive unit, which included Josh McArdle and Neil Manning in their AHL debuts, held Iowa to a scoreless final frame, then Anthony Louis sealed the game with an empty-net goal with 1:16 remaining.
The IceHogs got off to an early lead with Dylan Sikura and Louis tallying goals just over a minute apart in the first period. Sikura converted on a nifty cross-crease pass from Victor Ejdsell, while Louis scored an unassisted goal after forcing a neutral-zone turnover then beating Iowa goaltender Andrew Hammond high to the short side.
Iowa was able to respond, as Matt Bartkowski put the Wild within striking distance later in the first period then Justin Kloos drew them even on a power-play tally in the second frame. But the Iowa offense ran dry after this push and Nilsson's goal would become the winner.
NEXT HOME GAME: Wednesday, Nov. 7 vs. Iowa Wild | 10:30 a.m.
The IceHogs host the Iowa Wild this Wednesday for their annual School Day Game. Kids from local area schools are invited to take a break from the classroom and come learn with the IceHogs.