HOGS AND MONSTERS TRADE WINS IN WEEK 2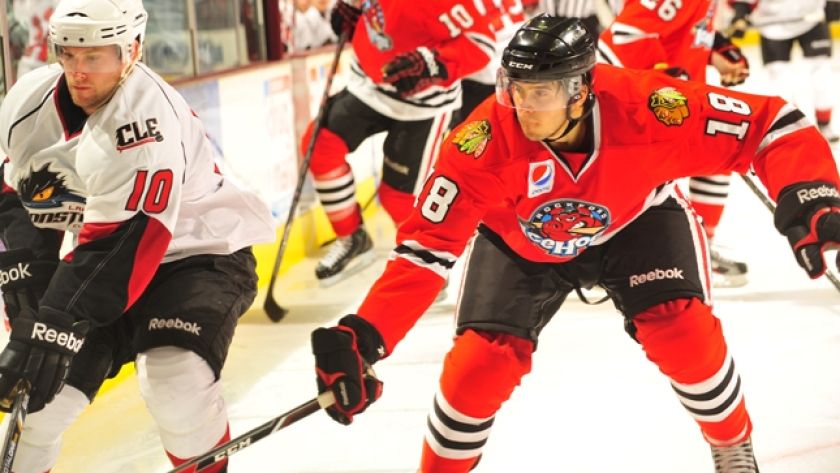 Week 2 Results
Friday, Oct. 11: Rockford 5 at Lake Erie 2
Saturday, Oct. 12: Rockford 1 at Lake Erie 5

Week 3 Schedule
Friday, Oct. 18 at Chicago 7:30 p.m.
Saturday, Oct. 19 vs. Grand Rapids 7:00 p.m.

Week 2 Recap:
In the Rockford IceHogs second weekend away trip, they faced off against the Lake Erie Montsers in a back-to-back at the Quicken Loans Arena in Cleveland. The Hogs pulled away early on Friday, scoring five straight goals to win 5-2. They dropped their second game against the Monsters on Saturday in a 5-1 loss.

Bacon Bits
-A game after outshooting Lake Erie 19-6 and outscoring them 3-0 in the first period on Friday, Rockford was outshot 20-4 and outscored 2-0 on Saturday
-Through four games, Rockford is allowing an AHL high 39.5 shots on goal per game
-Maxim Shalunov made his AHL debut on Saturday
-Brad Mills has a point in all four games for Rockford this season, totaling 2g-2a
-Defenseman Jared Nightingale has been whistled for a penalty in all four games so far in 2013-14, but has only committed one minor penalty
-Nightingale ranks fifth in the AHL with 27 PIMs
-Drew LeBlanc scored his first two career pro goals on Friday in Lake Erie and then added his first pro assist on Saturday
-Rookie Alex Broadhurst shows points in three of his first four pro games, totaling 1g-3a
-Rockford has scored 11 goals this season, but has eight different players with multi-point games
-After getting held without a goal last season in the Swedish Elite League, defenseman Viktor Svedberg tallied his first career AHL goal in just his third career AHL game
-Winger Jeremy Morin has a shot on goal in 132 straight AHL games dating back to 11/9/11
-All four of Rockford's games so far this season have come against opponents outside of the Midwest Division
-Just two of the IceHogs first 11 contests come against Midwest Division foes

Hot Hog: Week 2
Drew LeBlanc, Right Wing
Rookie winger Drew LeBlanc picked up points in each of Rockford's two games in Lake Erie over the weekend. LeBlanc began Week 2 with his first two professional goals on Friday night. The winger's first career tally figured to be the game winning goal and he earned the game's #1 Star in Rockford's 5-2 win. On Saturday, LeBlanc assisted on the IceHogs lone goal in a 5-1 loss to the Monsters. The assist was his first career pro helper.

Upcoming Games:
Friday, Oct. 18 at Chicago Wolves: Puck drops at 7:30 p.m. Rockford continues their last of a five game road swing in Chicago to begin the 2013-14 regular season. The contest is the first Illinois Lottery Cup match up of the season between the Midwest Division foes and is the first of 12 meetings overall on the season.

Saturday, Oct. 19 vs. Grand Rapids Griffins: Game time is 7 p.m. After five straight contests on the road, Rockford returns home to face the Griffins. The first 5,000 fans to the game will pick up an IceHogs calendar courtesy of Stateline Staffing Services.

Bud Light Hog Talk Season Premiere Tonight At District Bar and Grill:
Bud Light Hog Talk premieres on Monday, Oct. 14 at District Bar and Grill from 6-7 p.m. District is located one block north of the BMO Harris Bank Center on West State Street. Fans can join Mike Peck or Brian Tosti from 6-7 p.m. most Mondays as they chat with IceHogs players, coaches and front office members. Next week's guests include IceHogs' forwards Brad Mills and Alex Broadhurst and head coach Ted Dent. Take advantage of food and Bud Light specials at District. The show will be re-aired on Tuesdays from 7-8 p.m. on WIFR's 23.2 "Weather Now."

The IceHogs Broadcasting Network:
Catch every IceHogs game, home and road, in 2013-14 on WIFR's 23.2, "Antenna TV." The games can also be viewed on Comcast Cable Channel 436 or Mediacom 101 in the Rockford market and online through AHLlive.com. Fans can listen to the action for free on AHLlive.com. For a complete listing of TV stations carrying IceHogs games, visit IceHogs.com. Every broadcast will start with the IceHogs Warmup 30 minutes prior to puck drop.

Teams Record Points
Chicago 0-0-0-0 0
Rockford 0-0-0-0 0

Upcoming Illinois Lottery Cup Games:
Oct. 18: Rockford at Chicago, 7:30 p.m.
Nov. 29: Rockford at Chicago, 7:30 p.m.
Nov. 30: Chicago at Rockford, 7:00 p.m.