HIGHMORE, DAHLSTROM SET TO SHINE DURING ALL-STAR WEEKEND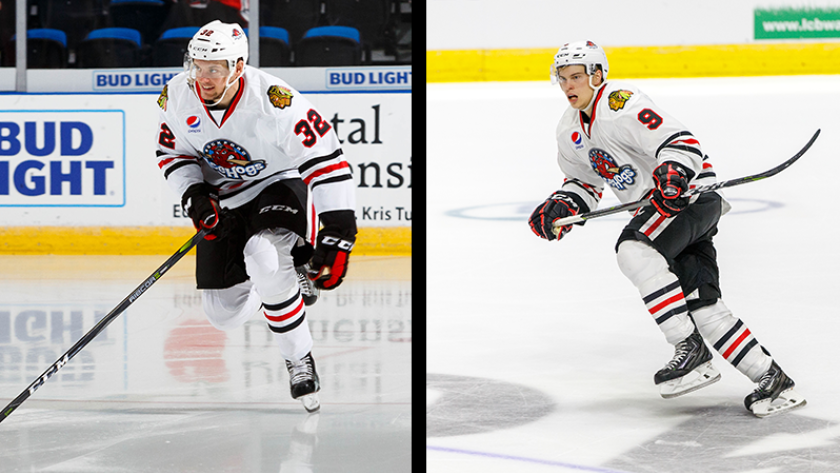 ROCKFORD, Ill. – As a high-flying rookie forward and a stout stay-at-home defenseman, Matthew Highmore and Carl Dahlstrom excel in very different areas of the ice. But regardless of his position, each player's All-Star pedigree will be on display this weekend in Utica, NY at the 2018 All-Star Classic.
"I'm just very, very excited. I'm extremely honored to be able to represent the IceHogs organization at the game and skills competition," said Highmore.
"It's nothing I really expected, but I'm really happy and looking forward to a really fun weekend," echoed Dahlstrom.
Highmore and Dahlstrom were named to the AHL All-Star Classic in place of Vinnie Hinostroza and Erik Gustafsson – who are currently playing with the Chicago Blackhawks – but are well deserving in their own right. Highmore leads the IceHogs in goals (18) and points (29), while Dahlstrom has posted a team-high +15 rating on the year and paces Rockford's blueliners in scoring with 23 points.
"Going into the year, I didn't have incredibly high (personal) expectations, I just wanted to come to the rink and work every day," said Highmore. "Whatever I needed to do to help the team win was my goal, and continues to be. It's gone well, and I have to thank the coaching staff and the older guys in the room as well – they've been nothing but great to us young guys."
Perhaps the most difficult aspect of the weekend will be figuring out which events in the skills competition the duo will compete in. But Highmore is keeping mum about any preferences going into the weekend.
"The skills competition is something I've never done before, so I'm looking forward to some new experiences there. Whatever they want me to do, I'll hop in there and try to do my best," he said.
Dahlstrom, while sharing a similar sentiment to Highmore, offered a bit of a glimpse into perhaps some untapped talents that may help him in the offensively-inclined events of the skills competition.
"I used to play forward, so I got a little toolbox that I might show off, but I don't know. I think I've improved my offense this year, but I am still trying to focus on my defense. I'll take whatever comes," he said.
But as the pair of IceHogs prepare for what should be a fun weekend in Utica, Highmore says they still have eyes ahead on the remainder of the season.
"Obviously it's been a good start, but it's only been half the games. I think we need to keep getting better each day, and it's exciting that we've got a really good group of guys here who like to come to work at the rink," said Highmore, "It makes everybody better around them."
On a personal level, Dahlstrom notes that the honor of being named an All-Star will spur him to continue his improvement this year.
"Its a mindset that I have to have that I'm up there with (the AHL All-Stars) now. I've had a good year, a productive year, and I've felt pretty good defensively too. I just have to keep working on it," he said.
With Highmore and Dahlstrom getting set to represent the IceHogs, Head Coach Jeremy Colliton offered support for his team's All-Stars, and knows this is just the beginning of their individual successes.
"We're just happy for them, they've done a really good job for us this year. They've been pretty consistent night in and night out, and a big part of the success we have had," he said.
"Hopefully it's just a stepping stone for them, and they'll continue to improve as the year goes on."

The 2018 AHL All-Star Classic presented by Turning Stone Resort Casino will air via national broadcast on NHL Network in the United States and on Sportsnet and Sportsnet NOW in Canada. The AHL All-Star Skills Competition is set for Sunday, Jan. 28 (7 p.m.), followed by the AHL All-Star Game on Monday, Jan. 29 (6 p.m).
Next Home Game: Friday, Feb. 2 | Rockford vs Manitoba Moose (7 p.m.)
The IceHogs take on the Central Division-leading Manitoba Moose on Friday, Feb. 2 for Jake Smolinski bobblehead night. Puck drop is at 7 p.m., and the first 2,500 fans in attendance will receive a free bobblehead of Oakland Athletics outfielder and Rockford native, Jake Smolinski. Tickets can be purchased at IceHogs.com, by calling (815) 968-5222 or in-person at the BMO Harris Bank Center Box Office.