HEALTHY VAN RIEMSDYK READIES FOR ROOKIE CAMPAIGN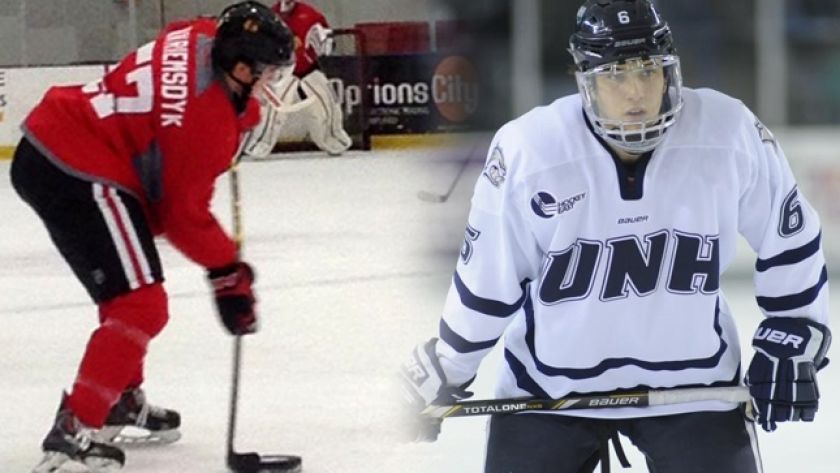 Eager to finally wear the red, black and white stripes – whether it's in Chicago or Rockford – rookie defenseman Trevor van Riemsdyk's journey as a professional hockey player is about to begin, but he is no fool in knowing he's got to take his work ethic to the next level in order to maximize his potential.
Fresh off of signing a two-year entry level contract with the Blackhawks on March 24 as an undrafted free agent, he was assigned to Rockford to get a taste of the pro game, but the d-man's pro debut was put on hold due to a lower body injury. His stay in Rockford lasted just a few short days before he returned to the University of New Hampshire to complete the academic year.
"I'm definitely looking forward to a new chapter in my hockey career," said van Riemsdyk. "Considering it's a different kind of game, I've got to adapt to certain types of things from one team to another and understand what (the Blackhawks) want me to do."
An offensive-minded defenseman, van Riemsdyk was on the first line of a UNH power-play unit that converted 20.3% of the time (15th in NCAA) during the 2013-14 season. During his career as a Wildcat, the blueliner accumulated 20 goals and 59 assists in 102 games, where he was also an alternate captain.
"Leadership just comes from gaining respect from the guys," said van Riemsdyk. "You got to work hard day-in and day-out. It's not like you really campaign to be a captain, it's just one of those things where you do the right things as somebody who can lead by example, which was one of my things at school. I just try to do the right things, work hard and hopefully people follow."
But after three seasons in Durham, N.H., the 22-year-old opted to forgo his senior season to sign with Chicago.
"It was a tough decision to leave school and some great friends, teammates and people at UNH. The coaching staff was always great to me and I just felt it was time to make that next step and move on to the pro game," said van Riemdsyk. "I knew the Blackhawks had some interest in me and considering it's a world-class organization and the way they play the game of hockey, (signing a contract with Chicago) drew to me."
The Connecticut native began the offseason in his home state, training with professional trainer Ben Prentiss and van Riemsdyk's older brother James – an all-star forward for the Toronto Maple Leafs who also represented the United States at the 2014 Winter Olympics in Sochi. After a couple weeks training with Prentiss, the two then headed west to James' house in Minnesota, where they continued their offseason strength and conditioning training.
More than three months removed from playing organized hockey, when Blackhawks Prospect Camp rolled around in early July, it was one step closer for van Riemsdyk's rookie campaign to begin.
"I've kind of been getting my legs under me, it had been a little while since I've had something competitive going on since I hurt my ankle," said van Riemdsyk. "I was definitely a bit rusty on the first day (of prospect camp) catching passes and things like that, but I've gotten better at getting to know the guys and the coaches a little more, which helps make me feel a bit more comfortable especially during practice."
A Blackhawks coaching staff rich with a focus of grooming NHL caliber players, since affiliating with Chicago in 2007, 61 players have donned an IceHogs sweater that have since played in the NHL. In the past two seasons alone, 17 former IceHogs have gone on to play in the NHL.
As the 2014-15 season quickly approaches, under the guidance of the Blackhawks developmental coaching staff along with his determined work ethic, van Riemsdyk is keen to becoming the next Hawks prospect to be an NHL product.
"I think you can never be a good enough skater and it's definitely something I want to improve on," said van Riemsdyk. "I just want to get better in all aspects of the game, whether it's defensive zones, stick positions, all of the little things like that. We have a lot of coaches paying attention to those details and making sure to point that stuff out. I just got to play my best and everything will unfold from there."