HAWKS SELECTION GILBERT REFLECTS ON 2015 NHL DRAFT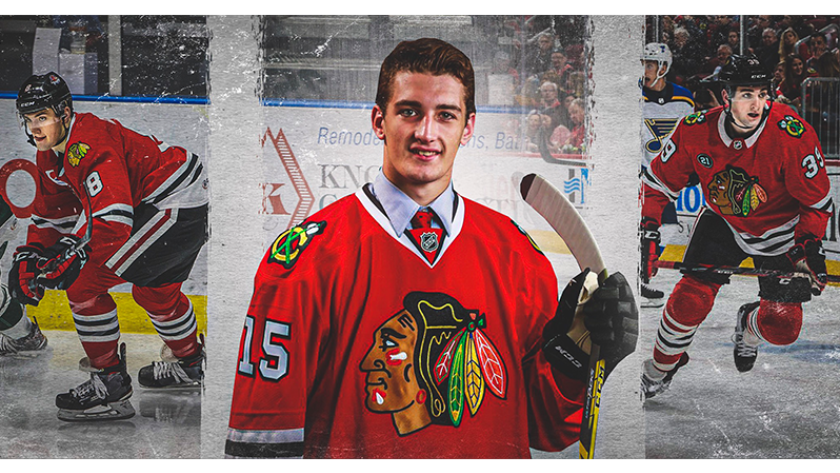 ROCKFORD, Ill. -- If 22-year-old Dennis Gilbert had the chance to tell 18-year-old Dennis Gilbert one thing going into the NHL Draft, it's to just enjoy it. Take in the whole experience. While you still can.
Because now there's a target on your back.
"What I've done to get here is great, and it was it was a fun journey and I've worked hard to get to this point," said Gilbert. "But just getting drafted doesn't really mean a whole lot. Once you get drafted there's eyes on you all the time, and that's when your hard work has really got to start."
Hard work is what helped Gilbert up his draft stock in time for the 2015 NHL Draft.
He said he was a "late bloomer in a lot of ways" and instead of initially beginning collegiate hockey at a lower-tier Division 1 school in 2014-15, he opted for a season in Juniors in the USHL. Gilbert continued filling out his frame and honing his skillset on the ice during his freshman season at Notre Dame, all the while keeping an eye on the ever-changing prospect rankings released throughout the season for the 2015 NHL Draft.
"Every time there was like a check-in or a draft board update throughout the season of top prospects, I was always kind of jumping up a couple spots in the rankings," said Gilbert of his first year at Notre Dame. "I was in kind of a weird situation because I wasn't a kid who went to national camps growing up, or you know wasn't a highly-touted prospect…I really had no idea if I was going to go in the second round or the seventh round."
As the draft approached, Gilbert had ongoing dialogues with a few NHL teams. The Chicago Blackhawks were in the mix, and as Gilbert admits now, were actually his preferred landing spot in the draft.
"I was just really excited, just hoping to hear my name eventually," said Gilbert. "There's a few teams that you have really good conversations with and you have a good feel for (entering the draft), so when those teams are going to pick, your ears perk up a little bit," said Gilbert.
The 2015 NHL Draft was held on June 26-27 at the BB&T Center in Sunrise, Florida. Gilbert brought his family, including aunts, uncles and cousins, and a few close friends and former teammates to Sunrise for the event, hosting a sort of "family weekend" to celebrate the occasion.
Following a first round headlined by Connor McDavid and Jack Eichel, the draft ticked into Saturday with Chicago holding the 91st pick. The Blackhawks had already addressed a need at winger with their second-round selection, and Gilbert hoped he might fit into their plans for their third-round pick.
With just 90 players picked before the defenseman, Gilbert was announced as the Blackhawks' third-round pick of the 2015 Draft.
"I was obviously blessed and super happy to be picked," said Gilbert. "My biggest thing was I was just so grateful to my parents…I'm just thankful and grateful that my parents were able to (sacrifice) and put me through hockey, and for the life lessons and all that stuff that's bigger than the game itself."
Gilbert allowed himself the weekend to soak everything in, but by Monday it was back to work. Sure, he achieved a lifelong dream, but the bar wasn't set at just getting drafted, it's getting drafted and reaching the NHL. And he credits his father for helping him find that balance of enjoying his success while staying hungry.
"My dad talked to me about (getting drafted) and kind of made me look at it as much as you try to make it not-a-big-deal thing," said Gilbert. And obviously it's something every kid dreams about it when they're young, but after this weekend, ahead, there's a lot more to work on."
Gilbert capped his collegiate career with honors as the 2016-17 Hockey East Best Defenseman and Third-Team Hockey East All-Star. He then helped the Fighting Irish to a BIG 10 Title during his junior year in 2017-18.
Last season, four years removed from the draft, Gilbert made both his professional debut with the Rockford IceHogs and NHL debut with the Blackhawks. He was also named the IceHogs' Most Improved Player for the 2018-19 campaign.
Now that hockey has reached the offseason, Gilbert is training back home in Buffalo, New York. Along with skating against current NHL players, he's also working out with several prospects who are set to enter this year's NHL Draft on Friday.
And some of the new prospects have already reached out to Gilbert for advice on the draft.
This time, 22-year-old Gilbert can lend his insight:
Just enjoy it.