HAMMY HUSTLE 5K SET FOR MARCH 25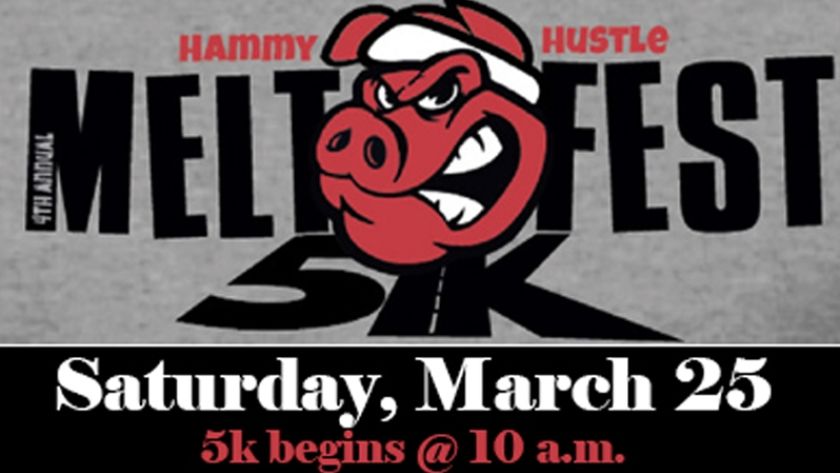 Rockford, Ill. – The fourth annual MELTFEST, a local annual Rockford event celebrating the end of winter and the melting together of the community, will feature the "Hammy Hustle" 5K which is co-sponsored by the Rockford IceHogs on Saturday, March 25 at 10 a.m.
The fourth annual 5K provides entrants the opportunity to run/walk a 5K route that takes them over the Morgan Street Bridge, past the new downtown Sports Factory, and for the first time THROUGH the BMO Harris Bank Center. The route takes competitors past the ice where the IceHogs play and continues through downtown Rockford. The course starts and finishes at the historic Prairie Street Brewhouse.
All participants will receive a commemorative shirt, be eligible to lay claim to a complimentary ticket for that evening's IceHogs game (7 p.m. vs. Grand Rapids), receive additional discounts to the IceHogs game on March 25, plus a few other surprises. All complimentary tickets must be redeemed in advance. Registration is open and participants can enter the race for $30 ($15 for youth) at: https://runsignup.com/Race/IL/Rockford/MELTFEST5K
A portion of proceeds from this year's event will be awarded to The Rockford Cosmopolitan Club whose club's mission is supporting efforts to prevent and find a cure for diabetes, while also supporting the well-being of the local community through charitable donations and volunteer service.
The 5K kicks off a day-long celebration at the Prairie Street Brewhouse and features a wide range of free activities for attendees to participate in, including ice skating, trolley rides (weather permitting), live music, kids activities, magic shows, science shows, mascot and character appearances (including HAMMY!), vendors, fun run, and bike rides.
For more information about the MELTFEST event, visit www.meltfest.com or call Brian at 815-978-4228.
Next Home Game: Saturday, March 25 vs. Grand Rapids, 7 p.m. The IceHogs host Country Night with the first 1,500 fans in attendance receiving a cowboy boot mug, courtesy of Pepsi and Dusty Boots. The Hogs will also host their fourth annual Sock Drive with donations benefitting Project Undershare.