GRAB ICEHOGS OPENING NIGHT TICKETS ON 815 DAY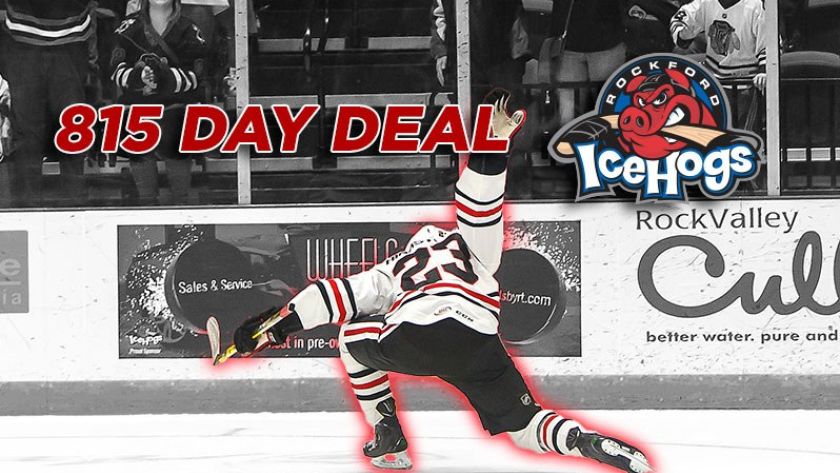 Rockford, Ill. – The Rockford IceHogs are offering a special ticket deal to celebrate 815-Rockford Day on Monday, August 15.

To honor the Rockford area code, tickets to the team's Opening Night game on Saturday, Oct. 22 in the Upper End Zone will be available for $8.15 for a limited time. The deal starts at 10 a.m. on August 15 (8/15) and will run until 11:59 p.m.

Fans can secure their tickets online at icehogs.com, at the BMO Harris Bank Center Box Office, or by calling the IceHogs at (815) 968-5222. Additional fees may apply when ordering online or by phone. Both the Box Office and the IceHogs Office are open from 9 a.m. until 5 p.m. Fans looking to take advantage of the ticket offer after 5 p.m. on Monday should purchase tickets online.

Earlier this summer, Rockford Community Partners announced a new city-wide celebration to be held on Monday, August 15, 2016. Rockford Day, playing off of the city's primary area code of 815, is a community showcase of the places, activities, and people that make Rockford great through fun and interactive experiences.

Along with the IceHogs, other area businesses, agencies and organizations that will feature Rockford Day discounts or activities, products and services include Rockford Park District, Rockford Pro Am, Crimson Ridge, SAMs Ristorante, Fur Company, Sienna's Kitchen, and many, many more. For a complete list, or for more information, click here.

The full 2016-17 schedule is expected to be released later this month. The IceHogs are coming off of their second-straight season with a postseason appearance, and 21 players from last season are under contract with either Chicago or Rockford for the upcoming year. Rockford completed an exciting season on and off the ice, as the team saw numerous records set including overall attendance (190,492), average attendance (5,013), points by a rookie (Vince Hinostroza – 51), and goals by a rookie (Tanner Kero – 20). Micheal Leighton earned his 46th career AHL shutout, setting a new league record for career shutouts.

The 2016-17 season is Rockford's 10th season in the AHL. Earlier this summer, the IceHogs and the NHL's Chicago Blackhawks extended their affiliation through the 2021-22 season.

Season Tickets for 2016-17 on Sale Now: Don't miss a moment of the action by reserving your seats for the IceHogs 18th season of professional hockey and 10th as the top AHL affiliate of the Chicago Blackhawks. Please contact us at (815) 847-6399 or by visiting icehogs.com to claim your spots for this upcoming season.