GOALTENDER FORMS LEIGHTON'S MINIONS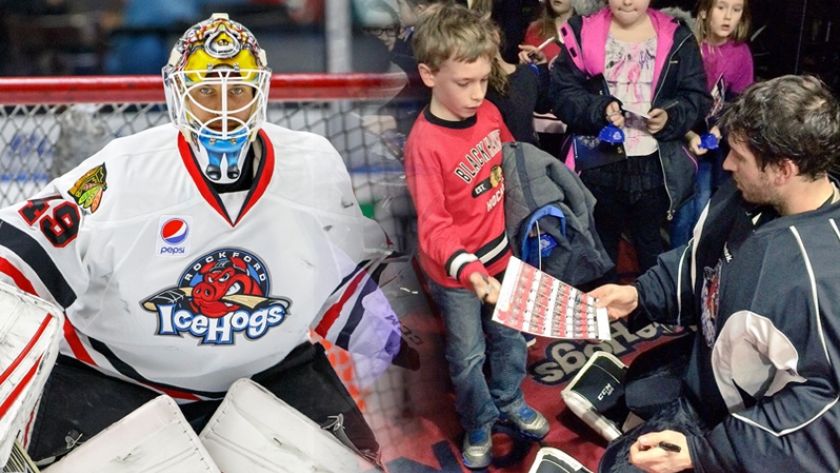 Rockford, Ill. - Along every stop during his professional career goaltender Michael Leighton, along with his wife Jennifer, have always tried to give back to the community of the team for which he is playing for.

This season, Leighton's plan to give back to the Rockford community comes out of inspiration from his goalie mask and to honor one of his biggest supporters, his godson Zach Darbyson, along with remembering a great friend and big fan, Mark Nantais.

Both Zach and Mark suffer from cerebral palsy and unfortunately Mark passed away from complications as a result of his ailment in 2013. But both have always been an inspiration for Leighton on and off the ice. Therefore, Leighton has created a plan to honor them while helping others in the process, coupled around the theme of his goalie mask, which features a Minion from the popular Despicable Me films.

Running with the theme that adorns his headgear, the netminder has launched Leighton's Minions, an initiative which will treat people from the Rockford area deserving recognition to a VIP experience at a Rockford IceHogs game at the BMO Harris Bank Center.

Each one of Leighton's Minions will receive a ticket to an IceHogs game in a private suite along with a special VIP lanyard and pass courtesy of the Leighton season. After the game, Leighton will invite his new friends down to the IceHogs locker room to take pictures and collect autographs from his teammates.

For more information on Leighton's Minions, visit and like the Facebook page by clicking here. To nominate an inspirational person or group (children with special needs, families of first responders, etc.) from the Rockford area to be one of Leighton's Minions for a game, send an email to leightonsminions@hotmail.com.