GETTING TO KNOW SCOTT DARLING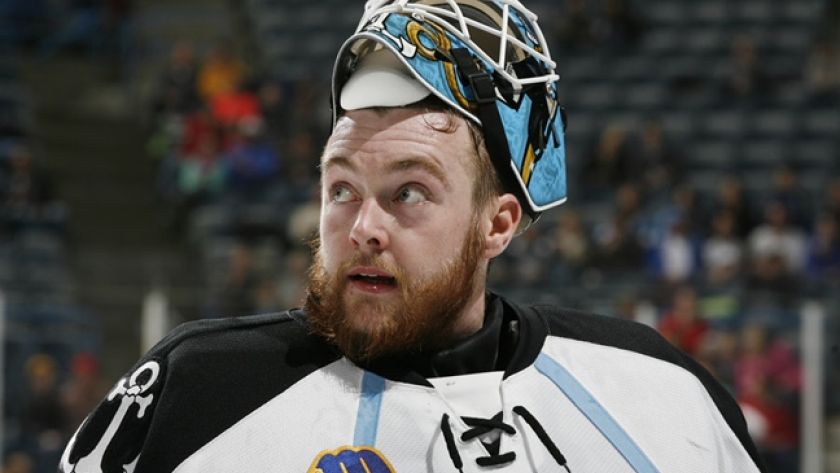 Newest goalie in Blackhawks organization chats with IceHogs.com

Goalie Scott Darling signed a one-year, two way contract with the Chicago Blackhawks on July 1. The Lemont, Ill. native is preparing for his first season in the Blackhawks organization and took some time out from his summer training to chat with IceHogs.com.

You've taken a rather unconventional path to your first NHL contract, what has been the hardest aspect for you to stick with this process of trying to reach the NHL?
Early on there was a lot of adversity, getting cut, getting sent down. I got like 10 call-ups my first year, but didn't stick with any team. So mentally, I had to really stick with it and keep telling myself that I can play. That was the hardest part.

You will get an opportunity to go to Chicago this September and compete in Blackhawks training camp. Is this something that you thought would be possible four or five seasons ago?
I've always had faith in my abilities and that's why I always kept pushing forward. But if you would have told me four years ago that I would be putting on a Blackhawks jersey, I'm not sure that I would have believed you. It really has been my dream to play with the Blackhawks.

It is not uncommon for a goalie to take a little longer to move through the development process as guys like Tim Thomas and even Corey Crawford spent a good amount of time in the minors before getting a good chance in the NHL. Do you look at goalies like this to keep you focused on your goal?
Yeah, absolutely. And that has helped me from panicking during this process. I think there were like four goalies last season, including Carter Hutton, who broke into the NHL at age 27. I'm only 25 and I haven't panicked. For goalies, it's a slower process and we have to get it right before making it to the NHL.

A lot of times in this game, you need a little luck in order to get an opportunity for playing time and you got that last season with Milwaukee. Did it feel like you finally got a break?
It definitely was the opportunity that I was waiting for. You always have to be ready. It was an unfortunate injury for Pekka Rinne in Nashville, but it opened the door for me to go to Milwaukee and I tried to make the most of my time there and it really worked out.

At 6-6, you're on the taller end from a goalie perspective. How does your size dictate the style you play in goal?
It's definitely a benefit if you can use the size to your advantage. I've had some great goalie coaches over the past few years and they have really worked on my reach and on using my size. The hardest part is the bigger you are, the bigger the holes. But I feel lucky and I never complain about being 6-6.

There are going to potentially be up to five Illinois natives on Rockford's roster this season, including yourself. What do you credit to the hockey boom here?
The midget program was really good when I was younger. I played for Team Illinois growing up and it was really good and I hear it's even better now. Since the Blackhawks started doing so well, participation has become greater and the hockey has gotten better. This is the result, more guys are coming out of the programs here and playing at the pro level.

With just over a month before training camp in Chicago begins, how much are you on the ice in preparation for the season?
Right now, I've been training out in Boston at Merrimack College. I've been doing that for the past eight weeks. Next week I'm moving back home to start skating with the Blackhawks staff and I'm really looking forward to getting started there.

What are your goals for the 2014-15 season?
To win a lot of games and make a run in the playoffs. I also really want to play a lot this season and that will be a reflection on how I do.

Season Tickets for 2014-15 Now on Sale: Reserve your seats today for the IceHogs 16th season of professional hockey and eighth as the AHL affiliate of the Chicago Blackhawks. Call (815) 847-6399 or visit icehogs.com to find a ticket package that fits your needs.