GET DISCOUNTED TICKETS, ICEHOGS HAT AND 2-LITER OF PEPSI WITH PEPSI SIX PACK PLAN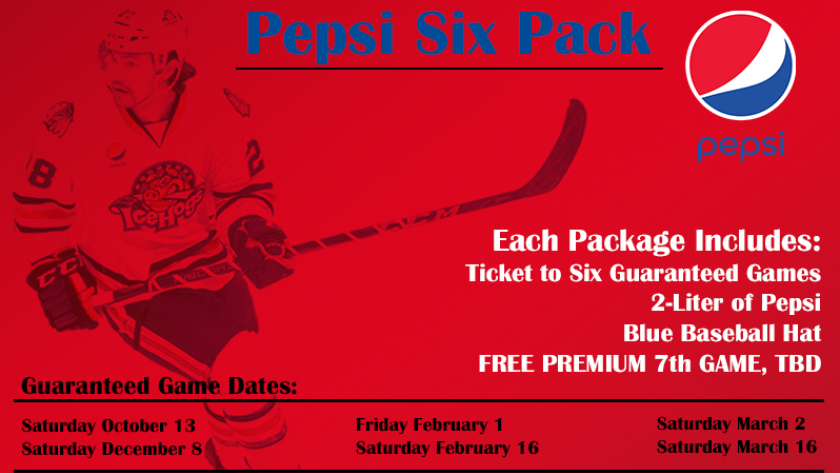 ROCKFORD, Ill. – In conjunction with the release of six guaranteed home dates for the 2018-19 season, the Rockford IceHogs have announced a Pepsi Six Pack promotion which includes a ticket to each of Rockford's six guaranteed home dates, 2-liter of Pepsi, blue IceHogs hat and free ticket to a premium game date (game to be announced at a later date) for the upcoming hockey season. Fans who purchase a Pepsi Six Pack will receive the same seat for each game of their ticket plan.
Prices for the package include savings of up to 33 percent on regularly-priced tickets. The Pepsi Six Pack is available for $72 for upper-endzone seats, $102 for upper sideline, $126 for lower endzone and $144 for lower sideline. Tickets can be purchased by calling the IceHogs front office at (815) 986-6465.
The IceHogs six guaranteed dates for the 2018-19 season, which were announced on June 7, begin with the home opener on Saturday, Oct. 13 and also feature reserved dates for weekend home games on Dec. 8, Feb. 1, Feb. 16, March 2 and March 16.
Fans can pick up their tickets, IceHogs hat and 2-liter of Pepsi at the BMO Harris Bank Center Box Office at a later date during the offseason. The free premium game date for the Pepsi Six Pack promotion will also be released later during the offseason.
Note: Fans will receive one IceHogs hat, a 2-liter of Pepsi and one free ticket to the seventh premium game date for each Pepsi Six Pack plan purchased. For example, if four seats are purchased with the Pepsi Six Pack plan, the purchaser will receive four IceHogs hats, four 2-liter bottles of Pepsi and four free tickets to the seventh premium game.
For additional information, call the IceHogs front office at (815) 986-6465.
Season Tickets for 2018-19 on Sale Now:
Don't miss a moment of the action by reserving your seats for the IceHogs' 20th season of professional hockey in Rockford and 12th as the top AHL affiliate of the Chicago Blackhawks. The IceHogs' home opener is set for Oct. 13 and ticket packages begin as low as $105 for a seven-game mini pack. Please contact us at (815) 847-6399 or visit icehogs.com to claim your spots for this upcoming season.