GEARING UP FOR THE 2015-16 SEASON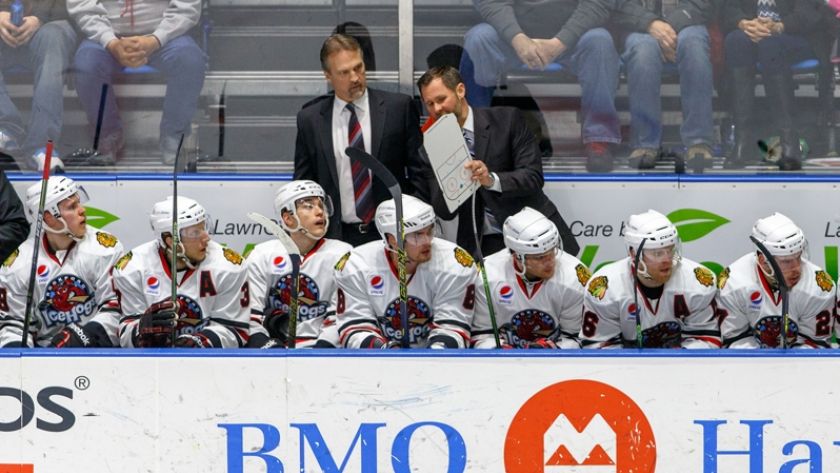 The Blackhawks reached the pinnacle of success this past June, but they weren't the only players in the organization who had a successful run. After a four-year absence, the Rockford IceHogs made the Calder Cup Playoffs as the fourth seed in the Western Conference, making it to the second round as a young team. Director of Hockey Administration/GM of Minor League Affiliations Mark Bernard sat down with chicagoblackhawks.com to discuss the progress made by the organization's young prospects, many of whom hope to make a splash at Blackhawks training camp this week.

What does last year's playoff run do for the IceHogs this season, in terms of confidence and experience?

It really provides the players going into this season more experience, and a lot more confidence. Last year was a great year in Rockford, as they set a lot of records for team wins and points; it gave especially those players in their second years (Mark McNeill, Garret Ross, Phillip Danault) a lot more confidence moving into this year's training camp.

McNeill, Ross and Danault really stood out as a line last season. Were they among the most impressive out of all the regulars last season?

Mark, Garret and Phillip really had good chemistry together; they formed a really good line early in the year, and they all had their best years to date. I don't know if one player in particular impressed me the most, as I was happy with all of their development. They all took the next step, they had good summers last year, and now it's important that they follow up a good season with another good year as they're all going into the last year of their entry-level deals, and there are jobs available going into training camp.

With the turnover on the Blackhawks roster this summer, it could be one of the most competitive training camps in years, with a lot of players vying for a few open spots. In your evaluation, who has the best chance of filling those roles at the NHL level?

We don't pick the team in July; it's picked in September at training camp. I think GM Stan Bowman has done a tremendous job of getting some great players back in the trades [of Brandon Saad and Patrick Sharp]. Look at the Columbus deal—we got Artem Anisimov and Marko Dano, but we also got very good forwards in Jeremy Morin and Corey Tropp, players who will be fighting for jobs in training camp. You've also got players like McNeill, Danault, Ross, Ryan Hartman and Brandon Mashinter, who are going to be coming into training camp trying to earn jobs. I think it will be a very interesting competition this year. It'll unfold the way the players make it unfold.

You started last season with a really deep core of defensemen, but the organization has traded away Adam Clendening, T.J. Brennan, Klas Dahlbeck and Stephen Johns. Has the team shored up that depth, and how do you see the blue line shaping up for 2015-16?

We've moved some good young D, and Ville Pokka has moved up the depth chart after the trades of Stephen Johns and the others. He had a really good rookie year, coming over from Finland, adjusting to North America, adjusting to a smaller ice surface and a different language—he's a very smart player. Thinks the game at a very high level. He'll be trying to earn a spot [in training camp], but if he's back in Rockford, he'll be a depth and recall guy. We've signed a very good defenseman, Cameron Schilling, out of the Washington system, who we regarded as a free agent a few years ago. He's another good depth defenseman.

Erik Gustafsson, who we signed as a free agent coming over from Sweden, is a player that impressed our scouts last year, and he'll be pushing for a job. Viktor Svedberg is another player who finished the season on the Blackhawks roster, skated with them all playoffs, and he's going into his third year and has some experience now. So there's no shortage of depth in Rockford, and we've still got some great young defensemen over in Sweden and Finland who are going to be making their way over in the next year or two.

There were a few new faces who got a taste of the AHL at the end of last season, including those young Swedish defensemen you mentioned, as well as college guys in Tanner Kero and Vincent Hinostroza. How did they fare for the IceHogs, and how do you see them contributing this year?

I'm really excited about Vinny Hinostroza and Tanner Kero. Kero had probably the best end of the season for any player that I've seen coming from college or juniors. He played six regular-season games, scored five goals, scored another couple goals in the playoffs and really took to the pro game like a fish to water. He has a great nose for the net, a great touch around the net, works extremely hard on and off the ice, and I think he's going to be a great pro player and a great prospect for us. Hinostroza brings energy, brings speed, brings tenacity. He's got a little nastiness in his game, he's got some skill. He's going to be an exciting player for our fans to watch; he's a smaller player, but he buzzes around on the ice and really makes himself noticeable.

I thought Robin Press, Carl Dahlstrom and Robin Norell also came over and did a great job. They're going to be spending the year back over in Sweden, so we'll look for them to join us at the end of the season again, but they came over and saw what pro hockey's all about, saw what the American Hockey League is all about, what the players do on a day-to-day basis to have success, and hopefully they can take that back to Sweden with them and enjoy a good year there.

Those three are already considered pro players in Sweden, with a couple years under their belt. What's the biggest difference between pro hockey over in Europe versus the AHL?

The biggest thing in European hockey is, they have a bigger ice surface, so the players have a little more time to make decisions. The forecheck isn't on you as quickly, and there's a little more room out there to maneuver. Number two is, they don't play as many games. In the AHL, they're playing 76 games, basically three games a week, plus practice, plus travel—it's a more hectic lifestyle. It's an adjustment, so the more they can come over and get used to that, the easier it will be when they come over full-time.

How important was it for you to re-sign Michael Leighton for this season, especially with Antti Raanta being traded? Can you talk about what Mark Visentin, who signed a minor-league deal, is going to bring to the goalie battle?

We were very excited when we signed Leighton late last summer. He provided real depth in goaltending for the Blackhawks, which we also saw in the emergence of Scott Darling. With Darling in Chicago and Raanta moved on to New York, it was very important to have that No. 3 guy, that depth guy that we can have in Rockford with NHL experience, available to recall if we need. Leighton is a guy who takes a lot of pride in his game. He keeps himself extremely fit, he's a great pro player, and he's a great example for our young guys in Rockford when he's there.

He's going to go into training camp and try to earn a job with Chicago, and if he's in Rockford, he'll be a great fit for us down there, provide great stability for us and be a great mentor for Visentin, who was a first-round pick of the Arizona Coyotes [in 2010]. He had a tough year missing last year with an injury, but there's a lot of potential there. He was a World Juniors player with Canada, and he had an extremely good Ontario Hockey League career. He's 22 years old, he has size, and I think it'll be great for him to develop behind a guy like Michael Leighton and learn from him. It'll be good to see what kind of potential he has.

Making the playoffs was the big goal for last season, and you did that and got into the second round. What are you hoping the team can achieve this year?

Playoffs is always the goal. You want to make sure you try and be competitive and make a good run for the playoffs. Even the four years we missed, the most we missed out by was five points. We walk that fine line of trying to develop players as well as have a competitive, successful team on the ice in Rockford, and it's not always easy. You can have a lot of young players at times, but I think we've done a great job of managing that. When you're playing playoff-type games late in the season trying to get in, that's important for those players, because they're getting that have-to-win mentality. Achieving that goal and making it into the second round was just the added bonus, because we got that success.

It's nice to play playoff games at the same time as the Blackhawks, and it made the young players excited. We enter each season with the goal of making the playoffs, but again, our main goal too is to make sure these young players are developing so that they can come up and not just fill a roster spot in Chicago, but compete and contribute.