GAME NOTES: PROSPECT TOURNEY DAY 3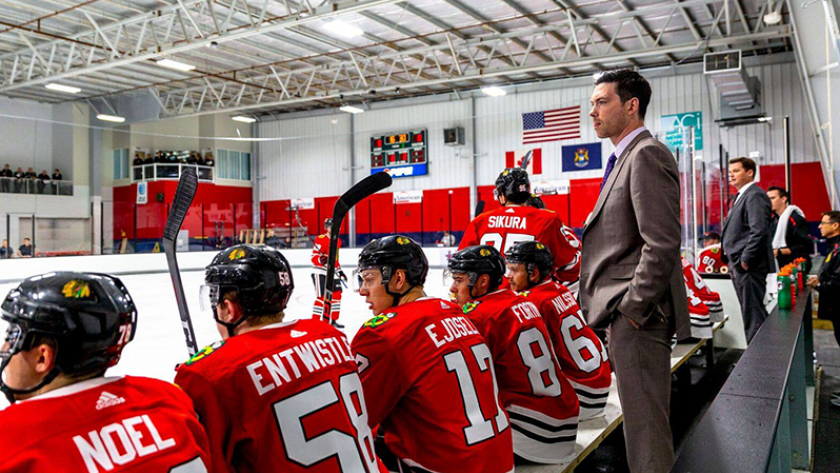 TRAVERSE CITY, MICH. -- Below are a few game notes and tidbits entering the final contest of pool play at the 2018 NHL Prospect Tournament:
---
BEAUDIN FOR THE WIN:
Nicolas Beaudin scored a goal for the second straight game on Saturday and now leads the team with three points (2g, 1a) in two contests this tournament…He enters Monday ranked second among tournament defensemen and tied for fourth overall in scoring this showcase with his three total points.
TWO TO TANGO:
Victor Ejdsell produced the first multi-goal game for a Chicago skater this showcase after netting two goals in Saturday's victory against the Hurricanes…With Nicolas Beaudin (2g), Ejdsell (2g) and Alexandre Fortin (2g), the Blackhawks join the Columbus Blue Jackets as the only two teams in the Prospect Tournament with multiple skaters to have scored multiple goals.
ONE AND DONE:
The Blackhawks allowed their first power-play goal of the tournament during a 5-on-3 against the Hurricanes on Saturday…Chicago is one of four teams to allow just one power-play goal during the showcase and currently ranks third overall with a 90.00 PK efficiency.
GOTTA SUPPORT THE TEAM:
Four different skaters scored a goal against the Hurricanes on Saturday, with Nicolas Beaudin, Victor Ejdsell, Alexandre Fortin and Dominik Kahun lighting the lamp in the victory…Through just two contests in the 2018 Prospect Tournament, five different skaters have scored at least one goal for Chicago and 10 different players have tallied at least one point (five skaters have multiple points).
TRIFECTA TALLIES:
Chicago scored three goals in Friday's contest against the Columbus Blue Jackets before potting five tallies in Saturday's victory over the Carolina Hurricanes…The Blackhawks have now combined for eight goals during the tournament and join Columbus and the New York Rangers as teams to score 3+ goals in each of their first two games.
LATE BLOOMERS:
Chicago allowed a first-period goal for the second straight game Saturday before erupting for five goals over the second and third frames…The Blackhawks enter Monday's contest having outscored opponents 7-4 over the second and third period this tournament (Chicago is being outscored 2-1 in the first period).
---
Season Tickets for 2018-19 on Sale Now:
Don't miss a moment of the action by reserving your seats for the IceHogs' 20th season of professional hockey in Rockford and 12th as the top AHL affiliate of the Chicago Blackhawks. The IceHogs' home opener is set for Oct. 13 and ticket packages begin as low as $105 for a seven-game mini pack. Please contact us at (815) 847-6399 or visit icehogs.com to claim your spots for this upcoming season.