FLAT HOGS FALL IN ROCHESTER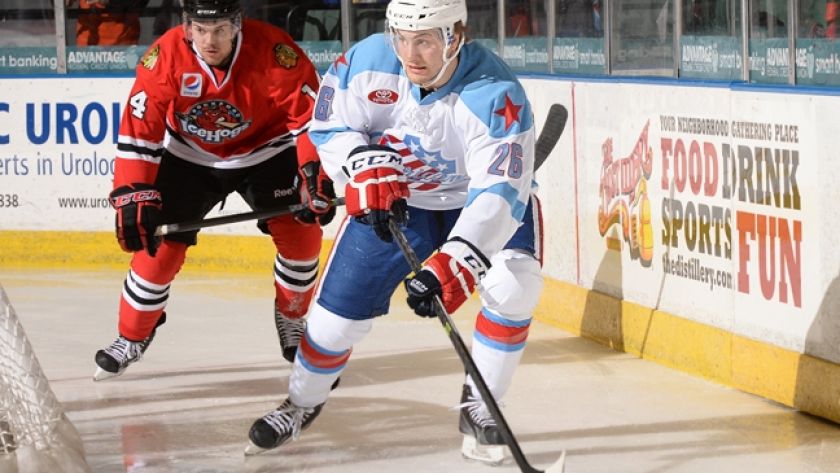 Rockford tripped up 4-1 by Amerks

Rochester, NY- After struggling to generate shots on goal in the first period on Friday night, the rest of the game kind of went downhill for the Rockford IceHogs. The Hogs dropped a 4-1 contest to the Rochester Americans in their first meeting in five years.

The first period went scoreless and Rockford would match a modern-era team record with just one first period shot on goal as Jeremy Morin was the only Hogs skater to get one through on Matt Hackett. The shot came nearly 18:30 into the opening frame.

In the second period, Rochester struck twice early to take a 2-0 lead. Colton Gillies capitalized on an IceHogs turnover and fired his fifth goal of the season over the glove of Jason LaBarbera and under the crossbar at 3:52.

Then with a power play, Rochester made it 2-0. Defenseman Brayden McNabb walked in uncontested on LaBarbera and buried his fifth marker of the season at 5:30.

After Rockford had their first sustained pressure of the second period, Rochester countered with a transition goal to stretch their lead to 3-0. Alex Hutchings followed a Tim Shaller rebound and poked in his fifth goal of the season at 13:53.

Kevin Sundher made it a 4-0 game with his fifth goal of the season at 10:26 of the third period. Rockford couldn't find the handle on a loose puck in front of LaBarbera and Sundher jammed home the marker at 10:26. All four of Rochester's goal scorers on Friday notched their fifth goal of the season.

The IceHogs finally struck later in the frame when Philippe Lefebvre tipped a Brandon Mashinter shot past Hackett at 12:03. Rockford doubled their first two period shot totals in the third period as they peppered Hackett with 12 in the final stanza and 24 in the contest but fell short to the Americans.

Next Home Game: Tuesday, Feb. 4 vs. Hamilton Bulldogs. Puck drop is 7 p.m. for another WXRX Dollar Day at the BMO. Fans can take advantage of one dollar beers, hot dogs, soft drinks and companion tickets.