FINDING HIS SHOT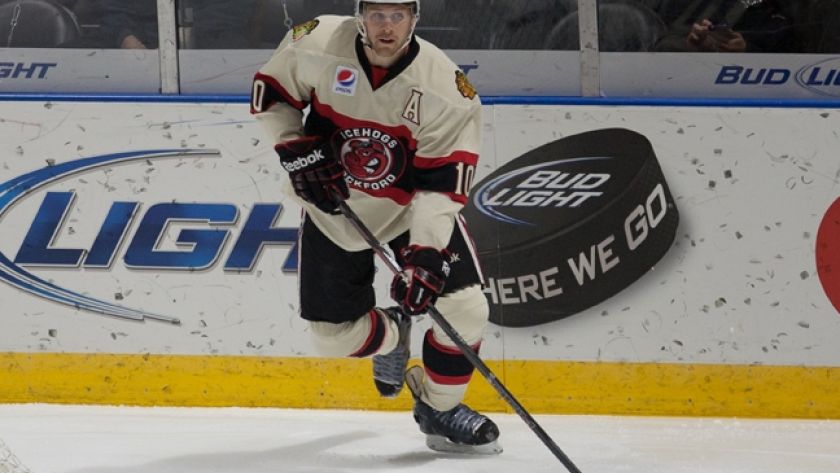 Dahlbeck establishing himself as a top-end defenseman

Rockford, Ill. – In just his second season with the Rockford IceHogs, defenseman Klas Dahlbeck has become a leader by example. Pegged as a stay at home defenseman during his young career, Dahlbeck is now showing the ability that he can become an all-around blueliner.

The Katrineholm, Sweden native was drafted in the third round (#79 overall) of the 2011 NHL Entry Draft by the Chicago Blackhawks. With a seven-hour time difference between St. Paul, Minn., where the draft was held, and his home of Sweden, Dahlbeck is lucky he didn't have to wait until the early morning hours to find out he was selected in the third round.

"I was following on the internet. My agent called me first saying that I got drafted by the Blackhawks. Then somebody, I can't remember who, called me from the organization," said Dahlbeck.

Playing parts of the past five seasons professionally is no small feat for a 22-year-old blueliner. Dahlbeck played his first game as a professional for Linköpings HC, of the Swedish Elite League, in the 2009-10 season, totaling six regular season games and three playoff contests. Prior to his professional debut, Dahlbeck played three seasons in Sweden's Division 1 and junior leagues with the Växjö Lakers, Gislaveds SK and Mjölby HC.

The 6'2" defenseman spent a final year with Linköpings HC in the SEL before jumping to the American Hockey League in 2012.

"Personally, I had a pretty good year," said Dahlbeck of his final year in Sweden. "I had a chance to play with the national team. But, my team (Linköpings HC) was struggling a bit and we landed in no man's land where we didn't play in the playoffs, but we didn't get sent to a lower level either."

Dahlbeck now plays with fellow Chicago 2011 NHL Entry Draftees; Mark McNeill, Phillip Danault, Alex Broadhurst and Adam Clendening in Rockford. With Brandon Saad and Andrew Shaw already playing in the NHL for the Blackhawks, the 2011 Draft could turn out to be a benchmark for the organization.
In his first season in the AHL (2012-23), Dahlbeck played in 70 games while recording 1g-5a-6pts and being named the IceHogs Most Improved Player for 2012-13.

But, with a new season has come a much improved offensive game for Dahlbeck. In four previous professional seasons, Dahlbeck had totaled 3g-15a-18pts. The defenseman tied his career professional total for goals (3) in just 11 games and tied his professional total of 18 points (8g-10a) in just 33 games in the 2013-14 campaign.

"I think I've improved a lot since last year," Dahlbeck said. "That was obviously a good start for me, coming over here, getting to know the game over here. I think I've improved in a lot of areas. Playing with the puck, feeling more confident with the puck and contributing with some offense this year."

It took six more games before Dahlbeck notched his 19th point on the season, breaking the total for his entire professional career. But, he did it in a big way by tying the IceHogs all-time record for assists and points by a defenseman in a single game when he recorded four assists on Jan. 11 against the Lake Erie Monsters.
As of this writing, Dahlbeck is tied for third in the AHL in goals by a defenseman with 10 and is tied for ninth in total scoring by a defenseman with 33 points, showing 10g-23a-33pts. Dahlbeck also has an impressive plus/minus rating of +22, putting him in fourth place in the AHL and making him arguably one of the top all-around d-men in the league.

IceHogs Head Coach, Ted Dent, agrees that Dahlbeck has found his stroke on the offensive side of the puck.

"I think he really set a goal this summer to improve his shot," said Dent. "He changed his sticks and he wanted to be more a part of the offense than he was last year. I think we stress as a team that we really want to create offense from the point and get our defensemen shooting the puck a lot as well."

The numbers agree. The lefty-shooter had taken just 1.05 shots per game between the SEL and AHL prior to this season. However, in 59 games this season, Dahlbeck has taken 139 shots for an average of 2.36 shots per game.

While showing a new scoring touch is great for the blueliner, Dahlbeck wants to show what he can do in the NHL above all else. However, he knows that there are areas that need to be worked on before he gets his shot.

"There is a ton to work with," joked Dahlbeck of his offensive development. "But, awareness of where everyone is so I can make better plays."

Dahlbeck may have been known more for his abilities as a stay-at-home defenseman prior to this season, but he isn't sitting idle in his defensive development.

"I've got to work on making even quicker plays and knowing where everybody is all the time. Same thing as the offense; awareness," said Dahlbeck.

Dent certainly won't cherish losing the Swedish defenseman once he earns a shot in the NHL, but the IceHogs head coach will be proud of Dahlbeck and the development he has achieved.

"Klas is doing well. He's really added a different part to his game this year with the offense," Dent said. "He's contributed offensively and got some points on the board. He's really focused on jumping the rush and being a second layer for us and trying to get shots through from the point. As well as maintaining his defensive play and being a good stay at home defenseman."

If Dahlbeck keeps showing the constant and measured improvements that he has shown in Rockford, it will only be a matter of time before the Blackhawks come calling.

Next Home Game: Saturday, March 22 against the Chicago Wolves. Puck drop is 7 p.m. It is country night with the IceHogs and the first 1,500 fans through the gate will receive a cowboy hat courtesy of Frito Lay. Gunner and the Grizzly Boys will be performing live at the game.