Eagles Run Away from Hogs in Third Period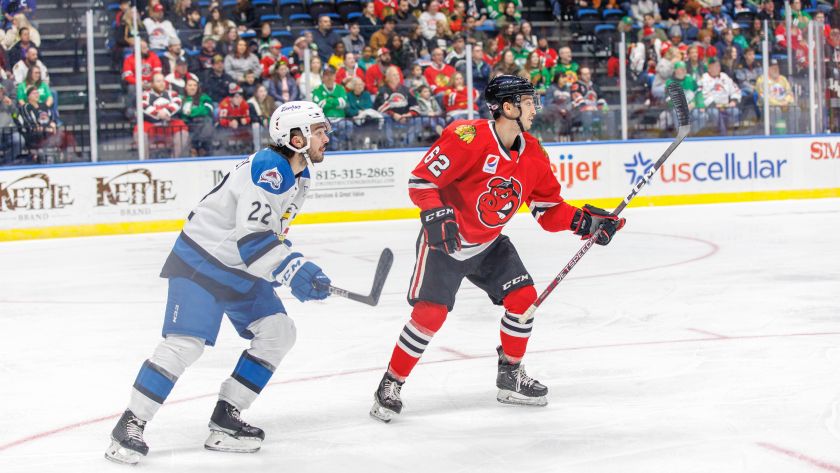 1st
2nd
3rd
Final

—
—
—

—
—
—

Tuesday, December 5
Rockford, Ill. – The Rockford IceHogs faltered on Friday night and fell 6-2 to the Colorado Eagles at the BMO Center. In his first game back since being placed in concussion protocol on Mar. 6, Brett Seney scored his 19th goal of the season in his 300th professional game.
The IceHogs opened the scoring early in the first period. Forward Luke Philp attempted to punch a shot past Colorado goalie Keith Kinkaid off a centering pass from David Gust behind the goal line. After Kinkaid sprawled out to deny Philp, forward Michal Teply flew into the crease and buried the loose disc to give Rockford a 1-0 lead at 4:03.
Stealing the momentum late in the first frame, the Eagles scored two unanswered goals heading into the first intermission. Colorado forward Charles Hudon went gloveside on Rockford netminder Jaxson Stauber at 12:24 to even the score 1-1, and forward Gustav Rydahl went upstairs at 16:09 and blasted a wrister that bounced off the back bar to give the Eagles a 2-1 lead.
Rockford struck quickly again to start the second stanza on the Hogs' second power play of the contest. Grabbing his second assist of the night, Gust shuttled a pass from the edge of the left circle to defenseman Jakub Galvas in the high slot, and Galvas set up Seney's one-timer from the right circle at 4:20, evening the score 2-2 on the man advantage.
Answering back 39 seconds later, Colorado forward Mikhail Maltsev tipped in a wrist shot from defenseman Ryan Merkley at the right point to reclaim the lead at 3-2.
The Eagles controlled the final frame and piled three more unanswered goals on the IceHogs. Colorado forward Alex Beaucage tallied at 1:11, and forward Spencer Smallman netted back-to-back goals at 9:19 and 12:35 for a commanding 6-2 lead.
Stauber was hit with the loss with 28 saves on 34 Colorado shots, and Kinkaid picked up the win after turning away 27 of 29 Rockford shots.

St. Patrick's Day Shirt Giveaway
Join the Rockford IceHogs on Saturday, Mar. 18 when the Hogs take on the Colorado Eagles at the BMO Center at 7 p.m. for the IceHogs themed St. Patrick's Day shirt giveaway for the first 1,500 fans!
Tune In LIVE on the IceHogs Broadcast Network Presented by BMO
Watch and listen to every game this season on the IceHogs Broadcast Network presented by BMO! Listen from your favorite device, at home, or on the road at IceHogs.com and on the IceHogs app and watch LIVE on AHLTV and selected games on 23.3 Circle TV! Fans can also tune in on all of Mid-West Family's local stations including 104.9 The X, B103, 95.3 The Bull, and Rockford Greatest Hits 100.5 and featured on Rock River Current, the Stateline's premiere source for local events, news and culture.