DEREK KING FINDING FOOTING IN NEW ROLE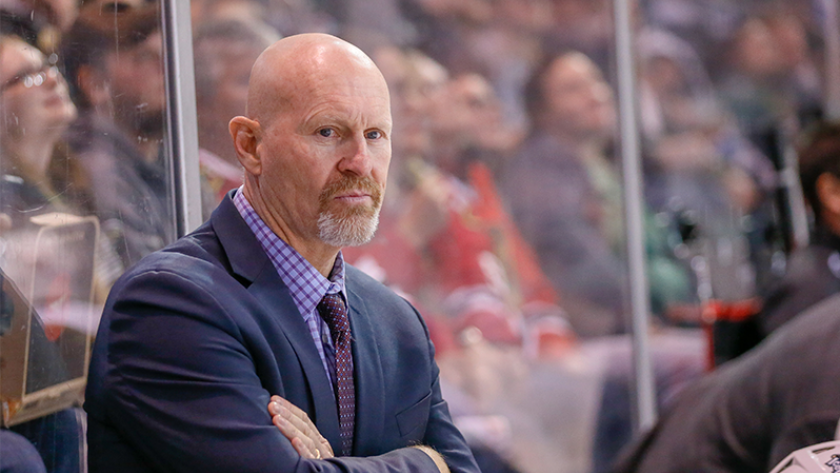 Derek King was surprised but prepared when he received a late-night call in early November informing him that then-IceHogs head coach Jeremy Colliton had been named head coach of the Chicago Blackhawks.
He was surprised, because it felt like just a short time ago that Colliton had been named head coach of the IceHogs prior to the 2017-18 season, an opening King had himself interviewed for.
He was prepared, because when the Blackhawks named King the interim head coach of the Rockford IceHogs, it was a position he was ready and willing to take on.
Since taking the reins behind the bench in Rockford, King has had to strike a balance between maintaining the consistency his predecessor had tapped into, and developing his own coaching identity in order to build off Rockford's recent success.
Colliton set a high bar in a short time as head coach. In his lone year as the IceHogs bench boss, Colliton helped Rockford to its first-ever appearance in the AHL Western Conference Finals. His departure was unique in that it was initiated by success rather than shortcomings.
King knew his job was to build off his predecessor rather than initiate a major systemic change.
"I think the big thing is just to keep this thing rolling," King said shortly after he was named interim head coach. "[Colliton] put a nice plan in place and there's no reason to change anything."
Consistency through the initial stages of the coaching change may have been more difficult than King initially anticipated. The IceHogs had just two wins in King's first nine games as head coach.
But King was determined to be himself through the entire process. He has spent the better part of a decade coaching in the AHL, spending time on the Toronto Marlies staff from 2009-15 and joining the IceHogs as an assistant coach prior to the 2016-17 campaign. In that time, he developed a style and demeanor that he is proud to maintain.
"I don't need to change how I am," King said. "Obviously, it's a little more loosey when you're the assistant coach. You're used to putting out fires, and now I'm kind of starting some of the fires myself. But I haven't changed too much."
Familiarity with King's style helped ease the transition for the IceHogs players. Though they had to adopt to having a new man in charge, the players had a preexisting rapport with their new leader.
"[King] has been around," said defenseman Carl Dahlstrom, who was with the IceHogs when Colliton arrived as the head coach, as well as when the job transferred to King. "He certainly hasn't changed since coming up as a head coach. I think that's a good thing because I liked him as an assistant and I like him now too, so it's just positives from that."
Since the rocky first few weeks of King's tenure, the team, just like its new coach, has found its footing. A jarring 7-2 loss at home to the rival Chicago Wolves late in November has helped spark a recent stretch in which the IceHogs have points four of six contests. Despite the November skid, Rockford has hovered around the fourth-place line in the Central Division that would place them in a playoff spot.
"Any time you have a bad loss, when you go in and talk to [the players] after the game you put them on notice that that's not acceptable," King said. "These are teams that we can beat with our lineup."
This year's lineup has produced wins differently than last year's. In the 2017-18 season, the IceHogs won high-flying, high-scoring contests, finishing seventh in the league in scoring but twenty-second in goals against. This season, the IceHogs have won games with defense and goaltending. Rockford boasts a record 10-0-1-0 when they at score least three goals, but are just 1-9-0-4 when scoring fewer than three goals.
This might come as a surprise to anyone who followed Derek King in his days as a player. The long-time forward for the New York Islanders and Toronto Maple Leafs tallied 612 points in his 830-game NHL career. He was far from a defensive-minded player.
But King believes his coaching style does not favor offense or defense specifically. Rather, he tries to take advantage of whatever strengths his group has.
"[If] we take care of our end and manage the puck well I think our offense will pick up better because we'll have the puck a lot more," King said. "That's some of the stuff you learn as a coach and it might be some of the stuff you didn't know as a player. You just thought you went out and played and when you had a chance, you took off. Now, you've got to look after your zone."
As the midseason mark approaches, the IceHogs have a focus beyond getting used to their new coach. At fifth in the division, Rockford faces a tight race for a playoff spot as each game grows in importance. King hopes he can lead the way.
"I think these guys trust me," King said. "They know I care about them and I want them to do better, but I also want them to work hard and battle through ups and downs… Hopefully down the stretch here we can just get on a little roll here, get some wins, and the guys will feel better about their game."