DELIA, JOHNSON & LOUIS TO SKATE IN CHICAGO PRO HOCKEY LEAGUE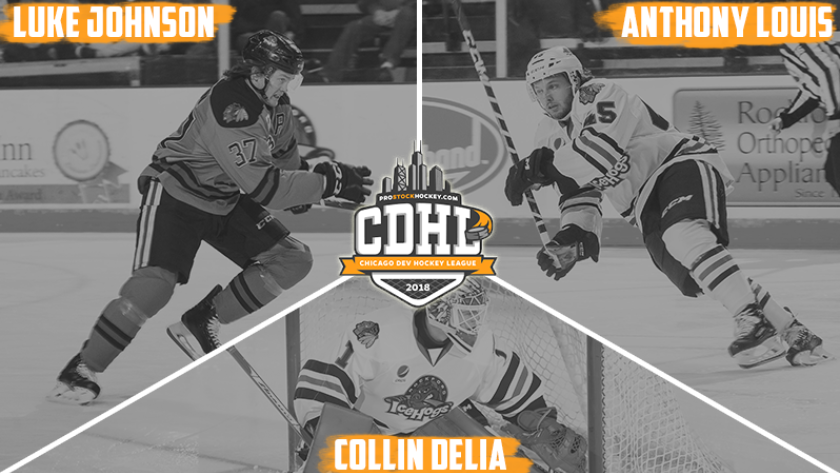 ROCKFORD, Ill. – The Chicago Pro Hockey League, sponsored by ProStockHockey.com, will feature several former Rockford IceHogs skaters and is set to kick off its inaugural six-game season at MB Ice Arena in Chicago on July 11.
The hockey league features a four-team rotation and is hosted at the Chicago Blackhawks' official offsite practice facility, MB Ice Arena at 1801 West Jackson Blvd in Chicago. Two games are scheduled every Wednesday at 6:20 and 7:50 p.m. from July 11 – Aug. 15. The cost to attend is just $5, with proceeds going to a designated charity.
Forwards Luke Johnson and Anthony Louis, and goaltender Collin Delia from the IceHogs' 2017-18 Western Conference Finals rosters are set to compete in the inaugural league. Johnson, who logged 30 points (13g, 17a) while skating in all but three of the Hogs' 76 games last year, will skate with GVN Performance/Prodigy in Division A, while Louis, who led Rockford in scoring during the regular season with 44 points (14g, 30a) in 70 games, will suit up with Centric Wealth Management in Division A. Delia, after going 17-7-4 with a 2.72 GAA in 28 games during the regular season with the Hogs, will also play with Johnson on GVN Performance/Prodigy. The two teams are scheduled to face each other on July 25 at 6:20 p.m. and Aug. 1 at 7:50 p.m. in the Hyundai Rink.
The Chicago Pro Hockey League's complete register of players also features numerous NHL skaters, including current Blackhawks Alex DeBrincat, Vinnie Hinostroza, Jordan Oesterle, Brandon Saad and Nick Schmaltz. In addition, Chicago prospects Henri Jokiharju and Roy Radke are also scheduled to skate in the league.
Former IceHogs skaters (years in parenthesis) slated to play include Brandon Bollig (2009-13), Alex Broadhurst (2013-15), Terry Broadhurst (2011-14), Ryan Hartman (2013-16), Hinostroza (2014-18), Brandon Pirri (2010-14), Brandon Saad (2012-13), Nick Schmaltz (2016-17).
Season Tickets for 2018-19 on Sale Now:
Don't miss a moment of the action by reserving your seats for the IceHogs' 20th season of professional hockey in Rockford and 12th as the top AHL affiliate of the Chicago Blackhawks. The IceHogs' home opener is set for Oct. 13 and ticket packages begin as low as $105 for a seven-game mini pack. Please contact us at (815) 847-6399 or visit icehogs.com to claim your spots for this upcoming season.