DELIA ASSIGNED TO ROCKFORD, TOMKINS ASSIGNED TO INDY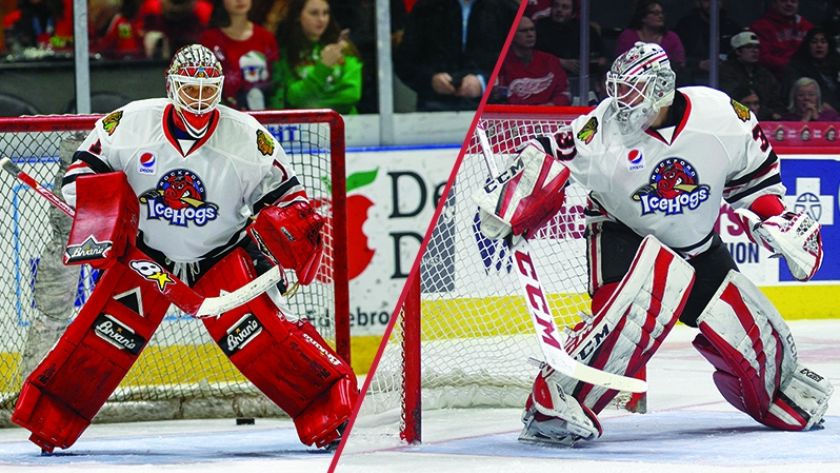 ROCKFORD, Ill. – The Chicago Blackhawks today announced that goaltender Collin Delia has been assigned to the American Hockey League's Rockford IceHogs. In addition, the IceHogs have assigned goaltender Matt Tomkins to their ECHL affiliate, the Indy Fuel.
Delia, 24, played at each of the three levels of the Blackhawks system last season, beginning the year in Indy before spending the majority of the 2017-18 campaign with the IceHogs. The rookie netminder led Rockford in wins during the regular season after posting a 17-7-4 record with a 2.72 GAA and .900 save percentage through his team high-tying 28 appearances. He finished the season unbeaten in regulation in 12 of his final 13 AHL outings, boasting a 10-1-2 record from Feb. 18 through the conclusion of the regular season.
The Rancho Cucamonga, California native was recalled by the Blackhawk on Thursday to serve as the backup to starting netminder Cam Ward. Delia did not appear in Chicago's season opener against the Ottawa Senators.
Tomkins, 24, made his professional debut with Indy during the 2017-18 campaign, compiling an 11-9-2 record with a 3.47 GAA and .912 save percentage in 25 ECHL appearances. He won his debut with 29 saves against the Tulsa Oilers on Oct. 21 en route to going 3-0-0 through his first four games with the Fuel. Tomkins was named the CCM/ECHL Goaltender of the Week at the conclusion of that unbeaten streak after leading the Fuel to back-to-back wins with a 1.50 GAA and .967 save percentage against Wheeling and Wichita. The netminder combined for 88 saves over those two contests, and concluded his ECHL stint with 40 or more saves in eight of his outings with the Fuel.
The Edmonton, Alberta native also made his AHL debut with the IceHogs last season, posting a 1-4-2 record with a 4.04 GAA and .871 save percentage in eight AHL appearances.
NEXT HOME GAME: Saturday, Oct. 13 vs. Texas Stars | 6 p.m.
The Rockford IceHogs will host their home opener for the 2018-19 season on Saturday, Oct. 13 against the Texas Stars at 6 p.m. at the BMO Harris Bank Center. The first 4,000 fans in attendance to Rockford's first home game of the campaign will receive a free IceHogs calendar, courtesy of Impact Networking. Call the IceHogs front office at (815) 968-5222 or visit icehogs.com to purchase tickets.