Defenseman Dmitri Osipov Checks His Way to the IceHogs' Heavy Hitter Award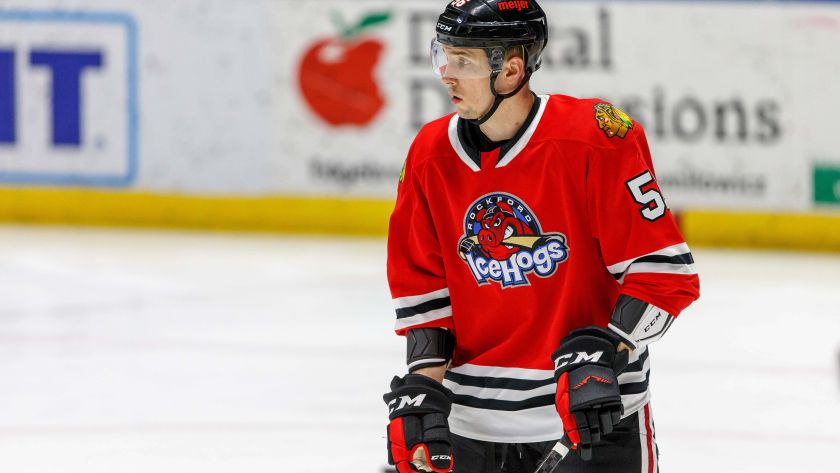 ROCKFORD, Ill. – The Rockford IceHogs, proud American Hockey League (AHL) affiliate of the Chicago Blackhawks of the National Hockey League (NHL), announced today that defenseman Dmitri Osipov is the winner of the team's Heavy Hitter award for the 2021 season.
Osipov, 24, led the IceHogs with 46 hits during the 2021 season and recorded two goals and four assists for six points while patrolling the IceHogs blue line in 22 games. The Moscow, Russia, native racked up eight 3+ hit games with the IceHogs this season and also appeared in five games with the Indy Fuel of the ECHL, where he picked up a season-high five hits on Apr. 3 vs. Jacksonville.
"It's an honor," said Osipov. "It's the other part of hockey that we get to do. It gets a spark going within the team and sends a message to the other guys so they don't mess around with our guys. If you get this award, it means a lot and hopefully, it helps my teammates feel more comfortable on the ice."
This past season was Osipov's third campaign in the IceHogs organization and fourth professional year, having skated in 28 games with the club last season, picking up one goal and eight games in 2018-19, adding two assists. He also appeared in eight games with the Fuel last year, adding four points (one goal, three assists) and netted a career-high 13 points in 2018-19 with a goal and 12 assists over 66 matchups and won the team's Defenseman of the Year award.
"It's pretty cool to know that people trust me," added Osipov. "For me, it's always been fun to slow teams down and hit guys. Everybody goes through different things to fire them up, and for me, it's to hit somebody. Slowing teams down is a big part of it. End plays quickly, get them uncomfortable. It's always been a part of me."
IceHogs Heavy Hitter Award Winners
00-01 Dan Davies
01-02 Dan Davies
02-03 Dan Davies
03-04 Jeff Ewasko
04-05 Eric Labelle
05-06 Bruce Watson
06-07 Chaz Johnson
07-08 Not Awarded
08-09 Bryan Bickell
09-10 Danny Bois
10-11 Garnet Exelby
11-12 Phillipe Paradis
12-13 Not Awarded
13-14 Brandon Mashinter
14-15 Cody Bass
15-16 Mike Liambas
16-17 Chris DeSousa
17-18 Andreas Martinsen
18-19 Andreas Martinsen
19-20 Dennis Gilbert
20-21 Dmitri Osipov