Deep Thoughts with Derek King – Postgame Quotes: 2/13/21 at Iowa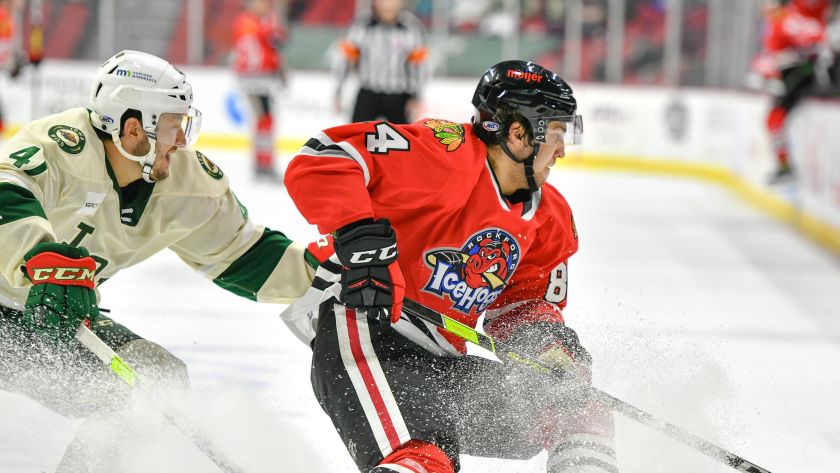 This season, after every Rockford IceHogs road game, Head Coach Derek King and broadcast Joseph Zakrzewski will break down the action and review the biggest headlines. Tonight, the IceHogs earn their first standings point of the season in a 3-2 overtime loss at Iowa. Forward Brad Morrison scored both IceHogs goals in his team debut and goalie Matt Tomkins provided 34 stellar saves.
Hot start in the first period with Morrison, Fossier, Yetman (Morrison with both of his goals in the opening period). What have you seen from them to get them together at practice and be rewarded so quickly?
King: They looked good together. First time putting them as a line. Good for them. Solid first and third period, but we need to clean up our second.
What did you see in the second period that you didn't like and Iowa took advantage? (Iowa scored twice in the frame to tie the contest, 2-2)
King: We didn't manage the puck and stopped playing our game.
Tomkins had quite the showing with key stops throughout the game, especially on the penalty shot in OT. Bounce back performance for him from Opening Day?
King: Good to see him bounce back. Solid performance for us. All we ask of our goalies is to give us a chance and Tommer did just that.
It's a short turnaround before seeing the top team in Chicago again on Tuesday. What's the focus/mindset going into tomorrow/Monday now that you have three games under your belt, a road trip, and first-hand knowledge of the Wolves to build on for this young group?
King: Play our game for 60 minutes. I loved our effort tonight. Just need to clean up our second period a bit.
The Rockford IceHogs open up a four-game homestand starting Tuesday, Feb. 16 at 6:00 p.m. against the Chicago Wolves at BMO Harris Bank Center. Fans can watch all of this season's action LIVE on AHLTV and 23.2 Antenna TV WIFR (home games)! Tune in to every broadcast for free on SportsFanRadio 1330 AM, Sportsfanradio1330.com, IceHogs.com, and the IceHogs app!
Every active full IceHogs Season Ticket Holder and 20-Game holder who have paid for their tickets in full or who have a deposit down on their tickets for 2020-21 will receive FREE access to every IceHogs game through AHLTV on the IceHogs Broadcast Network presented by BMO Harris Bank!
Want to upgrade to a Full Season or 20-Game plan? Contact us at (815) 968-5222 or email us at [email protected]!