DAHLSTROM BECOMES 100TH ICEHOGS ALUMNUS TO PLAY IN THE NHL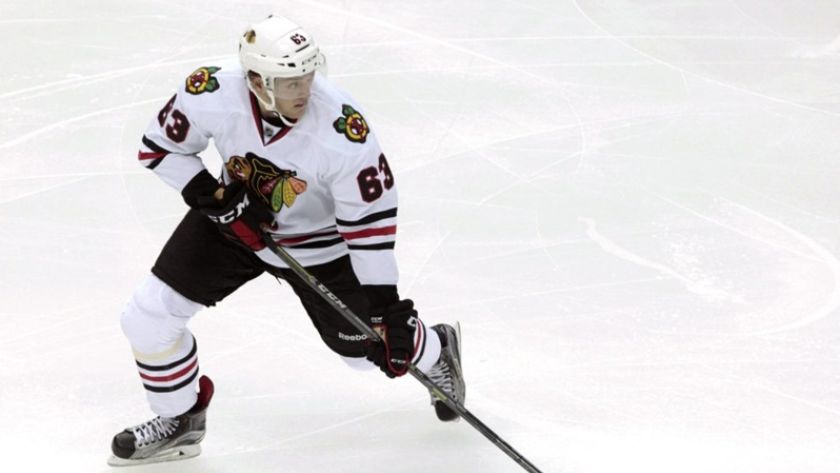 ROCKFORD, Ill. – Defenseman Carl Dahlstrom made his National Hockey League debut during the Chicago Blackhawks' game against the Minnesota Wild on Saturday night to become the 100th former Rockford IceHogs player to skate in an NHL contest. He joins goaltenders J.F. Berube and Jeff Glass, forwards David Kampf and Tomas Jurco, and defenseman Justin Holl as players to join the list of IceHogs' NHL alumni this season.
Of the 100 IceHogs alumni to see NHL ice time, 75 have played for the Blackhawks – Rockford's affiliate in the NHL. Twenty-two former IceHogs have gone on to win the Stanley Cup with Chicago, and eight have multiple Stanley Cup wins, including three-time champion Niklas Hjalmarsson.
Five Rockford players (Kampf, Jurco, Glass, Berube and Dahlstrom) joined the list of alumni via Chicago this season, suiting up for a combined 143 IceHogs games in 2017-18 before being called up. The five skaters have appeared in 41 total contests with the Blackhawks during the current campaign. Holl, who skated in two games with the IceHogs in 2014-15, made his NHL debut with the Toronto Maple Leafs against the New York Islanders on Jan. 31, 2018, netting a goal in Toronto's 5-0 victory.
Rockford's century list began in 2005 when Raitis Ivanans became the first former IceHogs skater to play in the NHL when he suited up for the Montreal Canadiens on Oct. 8, 2005 against the Toronto Maple Leafs.
Former IceHogs have suited up for 29 of the 31 current NHL teams. As of Feb. 12, 2018, only the Buffalo Sabres and Vegas Golden Knights have yet to feature an IceHogs alumnus. For a complete list of IceHogs alumni, visit the IceHogs website here.
Next Home Game: Tuesday, Feb. 13 | Rockford vs Cleveland Monsters (7 p.m.)
The IceHogs take on the Cleveland Monsters at 7 p.m. at the BMO Harris Bank Center. If the Hogs win, tickets from Tuesday's game can be redeemed for a ticket of equal or lesser value to the following Fas Fuel Winning Weekdays game on Wednesday, Feb. 28. Fans can also enjoy $2 tacos, select beer, and companion tickets as part of Taco Tuesday. Tickets can be purchased at IceHogs.com, by calling (815) 968-5222 or in-person at the BMO Harris Bank Center Box Office.