CONDON SHUTS DOWN HOGS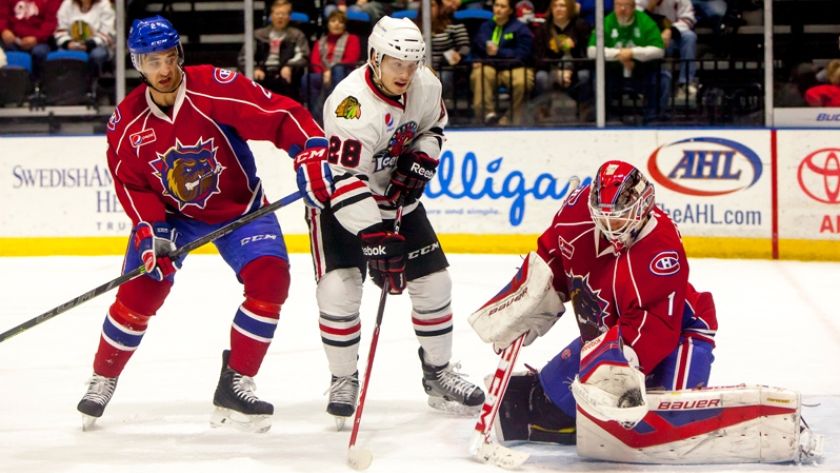 Goaltender Mike Condon slows down Hogs with 40 saves

Rockford, Ill. – The Rockford IceHogs have had no trouble firing shots at their opposition but they have had trouble turning those shots into goals as of late. The trend continued on Tuesday as the IceHogs dropped a 2-1 game to the Hamilton Bulldogs at the BMO Harris Bank Center.

Over their last eight contests the IceHogs have fired at least 30 or more shots on goal in seven of those games, however the club has only been able to generate 17 goals total or 2.1 goals per game. The story would be the same Tuesday as the Hogs put up 41 shots but were only able to light the lamp once.

With the score tied 1-1 after 40 minutes of play, Christian Thomas netted the game winning goal 4:25 into the final frame. Thomas found himself alone in front of Scott Darling and bagged his ninth goal of the campaign from Daniel Carr and T.J. Hensick.

The IceHogs tried to comeback with a late surge, firing 15 shots at Mike Condon in the final frame but the Bulldogs netminder held strong to give Hamilton a 2-1 victory.

The Bulldogs jumped out to an early 1-0 lead 33 seconds after a physical opening to the game, including a fight between Pierre-Cedric Labrie and Joe Finely. Charles Hudon picked up a errant IceHogs pass on his own blueline and skated toward the IceHogs zone pulling away from defenders. Hudon fired a shot on net beating goaltender Darling 2:55 into the contest.

With Rockford down a goal early into the game, Dennis Rasmussen tied the contest at 1-1 with 14:50 left in the first frame. Rasmussen poked home his seventh goal of the season thanks to a centering pass from Mark McNeill from the right wing circle.

Darling took the loss stopping 28 of the 30 shots he faced, dropping his record to 9-4-2-0. Condon picked up his eighth victory of the campaign improving his record to 8-7-2-0.

Both power plays were held off the board as the IceHogs failed to convert on their four chances while Hamilton was unable to cash in on three opportunities.

Next Home Game: Friday, January 9 vs. Milwaukee Admirals. Game begins at 7 p.m. Rockford begins their 2015 home slate with a Midwest Division rivalry game against the Milwaukee Admirals at the BMO. The first 2,500 fans through the gates will take home an IceHogs fleece blanket thanks to OSF. Those 21-and-over can arrive early for another Blues Flame Lounge Pre-Game Party, and enjoy live music, drink specials and free appetizers. Doors open at 5:15 p.m.