COLONIAL CUP FLASHBACK: ROCKFORD GROUNDED BY WINGS IN SHUTOUT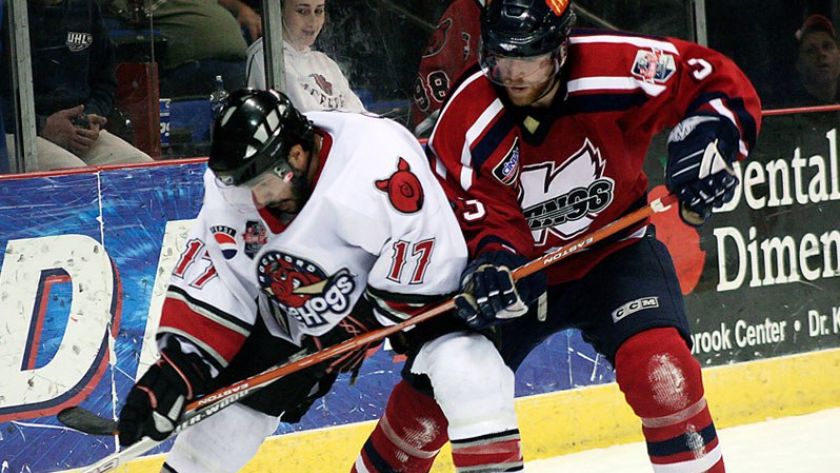 KALAMAZOO, Mich - The Rockford IceHogs cruise to the Colonial Cup title took a detour with a 3-0 shutout by the Kalamazoo Wings in Game 3 of the championship series at Wings Stadium. Rockford was limited to just 19 shots in the defeat, each of which were turned away by Ryan Nie in his second shutout of the postseason.
The two clubs played to a scoreless draw through one-plus period of hockey until Derek Ryan netted his first of two goals in the contest. Ryan collected a feed from Lucas Drake and tipped the puck in behind Frederic Cloutier to give Kalamazoo a 1-0 lead at 5:25 in the middle frame. Cloutier successfully fended off 10 shots in the first period and a barrage in the second before finally yielding to Drake just over five minutes into the stanza.
With the IceHogs mounting only five shots on goal in the middle period, Kalamazoo was free to unload 13 shots on goal. Ryan again cashed in on an opportunity, this time at 16:51 in the period, receiving a setup from Jesse Rycroft and Adam Elzinga and beating Cloutier to double the Wings' lead to 2-0.
Ryan scored just one goal in his first eight UHL playoff games before posting his multi-goal effort on May 16 against the Hogs.
Kory Karlander then put the game away with a tally just 58 seconds into the final period. IceHogs goalie Cloutier managed to turn away 32 shots in the defeat, but Karlander, who potted 45 goals during the regular season, fired in his 11th goal in 14 postseason games to boost Kalamazoo to a 3-0 advantage.
The IceHogs came up empty on their lone power-play chance midway through the third period en route to their shutout loss.
Chaz Johnson led all Rockford skaters with four shots in the defeat.
Season Tickets for 2017-18 on Sale Now: Don't miss a moment of the action by reserving your seats for the IceHogs 19th season of professional hockey and 11th as the top AHL affiliate of the Chicago Blackhawks. Opening night is Oct. 14 and ticket packages begin as low as $105 for a seven-game mini pack. Please contact us at (815) 847-6399 or by visiting icehogs.com to claim your spots for this upcoming season.