COLONIAL CUP FLASHBACK: NATHAN LUTZ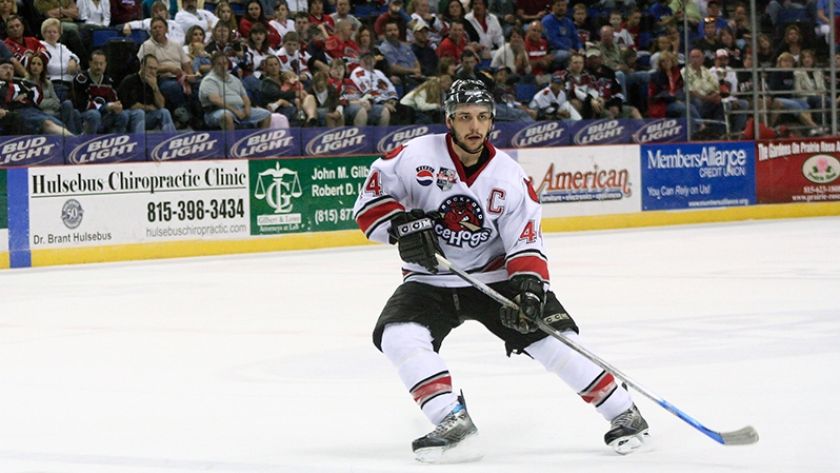 Nathan Lutz had faced his fair share of heartbreak with the Rockford IceHogs. The team missed the postseason in his first season with the club (2003-04) and was then eliminated in the semi-finals the next two years. The first of those two in a Game 7 overtime matchup with the Fort Wayne Komets. The 2006-07 season, however, had a different, and much more memorable ending.
LISTEN

Lutz had his best season offensively in 2006-07, posting 11g-35a-46pts and 175 PIM in 76 games. Under Head Coach Steve Martinson, the combination of offensive upside and overall toughness was an important factor.

"Martinson's teams are always team-tough. You know you are going to be in for a good battle with them, and that's something we had," Lutz said. "But, those tougher guys can play. All the tough guys we had were 15 to 20 goal scorers as well as being enforcers on the ice.

"He (Martinson) brought so much championship experience and knew a lot of guys that had played before and brought guys that he knew could win and could help his team. He was just phenomenal at bringing together a great team."

The IceHogs rolled through the first two rounds, dispatching the Quad City Mallards in the opening round and followed that by exercising some demons with a win over Fort Wayne in the semi-finals. Both series wins were recorded by identical 4-1 scores.

The championship round, however, pushed the Hogs to the brink. Lutz had to draw on those past experiences to help his team get over the hump. As the captain of the club, and its longest-tenured player, he stepped up into a leadership role that season.

"Well it was a big role for myself," said Lutz. "One thing that helped me was in those first few years I did have really good leaders that showed me the way and how to try to help everyone else and also how to be a better player myself."

Initially, it appeared the Hogs may be on their way to another decisive series win. They took the first game against Kalamazoo in overtime, 3-2, and followed it up with a 6-1 drubbing of the Wings to jump out to a 2-0 series lead.

The Wings, however, had other thoughts. They snagged games three and four back in Kalamazoo to turn the series into a winner-take-all best of three. Rockford still held home ice advantage, which proved to be a key factor in the victory.

"Home ice advantage was such a big thing, especially with matching lines both ways," commented Lutz. "When we were at home we got to match with their top line and shut them down, and the same in Kalamazoo. That's what we worked for all season was for that top spot so we could have home ice advantage in the playoffs, and it came down to a Game 7."

The teams traded wins on their home rinks in games five and six, and it all came down to the final game of Rockford's UHL era. Lutz's leadership came in to play, and he was tasked with keeping his team calm, even though the circumstances provoked any other emotion.

"I can remember the whole day (Game 7), because I wanted it so bad and I had pictured that last game in my mind so much. I tried to keep it loose, but focused," said Lutz. "When we came to the rink in the playoffs, especially that last series, everyone had the same routine and the same mentality, and we knew if we went to work and played as well as we could, that we would win."

A jam-packed crowd of Rockford-faithful put that focus to the test, before the puck even dropped. A throng of 6,236 fans showed up to help cheer their team to victory, producing an unforgettable moment for the team.

"I just remember coming out for the first period underneath the tunnel and the crowd was so loud, and the place was just shaking," Lutz recalled. "It always reminds me of that scene in Gladiator - it was that intense of a moment and I will never, never forget that. It was a special memory that I don't think can be duplicated."

Rockford scored first, an unassisted shorthanded tally from Kevin Ulanski, but the Wings answered on a separate power play later in the first frame. Jason Notermann put Rockford back on top at 6:11 of the second period, but it was Nicolas Corbeil's tally in the third that sealed the win for the IceHogs.

"Corbeil went right to the bench, and we knew we had it after that goal," said Lutz. "Before that it was so tight, but that goal was it. I remember that plain as day."

A perfect night for the IceHogs, as the team closed out its UHL tenure by capturing the championship that had eluded their grasp for two years prior.

"The team we had was just an awesome team of guys and it was just an awesome season to remember," said Lutz. "Everybody knew their role, everybody accepted it, and that's what made us such a great team that year."

Following his time in Rockord, Lutz went overseas to compete in Denmark (2007-08) and Italy (2009-10). The Mistatim, Saskatchewan native closed out his playing career with three straight seasons playing for the Tulsa Oilers in the CHL and ECHL. When all was said and done, Lutz logged 113 games in the AHL, totaling 13 points and 78 PIM. Along with his Colonial Cup championship, Lutz also helped the Milwaukee Admirals win the Calder Cup in 2003-04 and collected the Danish Cup with the Rodovre Mighty Bulls in 2007-08.

Lutz currently lives on his family's farm in Saskatchewan, Canada, with his wife Kayla, daughter Abby, and son Brooks.
Season Tickets for 2017-18 on Sale Now: Don't miss a moment of the action by reserving your seats for the IceHogs 19th season of professional hockey and 11th as the top AHL affiliate of the Chicago Blackhawks. Opening night is Oct. 14 and ticket packages begin as low as $105 for a seven-game mini pack. Please contact us at (815) 847-6399 or by visiting icehogs.com to claim your spots for this upcoming season.