COLONIAL CUP FLASHBACK: ICEHOGS STORM OUT TO 2-0 SERIES LEAD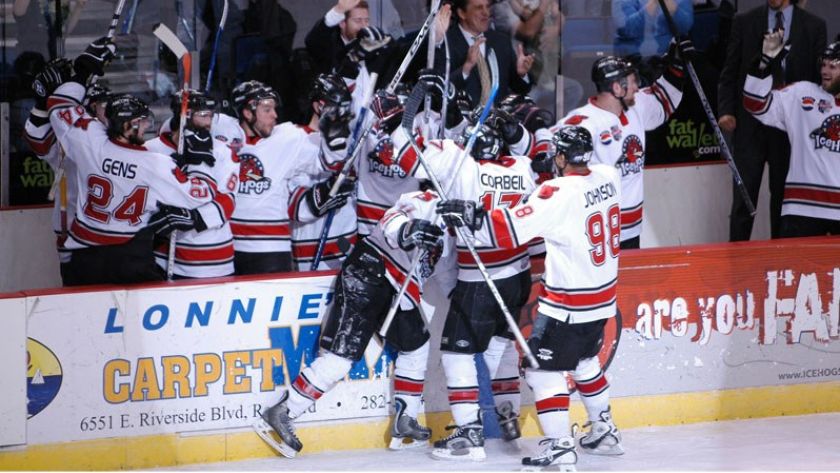 The Rockford IceHogs took a commanding 2-0 series lead in the Colonial Cup Championship with a 6-1 victory over the Kalamazoo Wings in Game 2 at the Rockford MetroCentre. The IceHogs scored five of their six goals in the second period en route to their Game 2 rout of the Wings.
In net, Hogs goalie Frederic Cloutier was masterful, turning away 30 of 31 shots for his sixth consecutive victory. Cloutier allowed two or fewer goals for the fifth time in six games following the Game 2 victory, and improved to 6-0-0 with a .910 save percentage during his unbeaten streak.
Kaleb Betts potted a power-play goal at 7:27 in the opening period to spot Rockford a 1-0 lead until early action in the middle frame. While on the penalty kill, the IceHogs allowed Kory Karlander to score his 10th goal of the postseason to re-tie the game at one tally apiece.
Rockford's offense caught fire from that point, scoring five unanswered goals on just 15 shots in the second period. Rookie Betts netted his second power-play goal of the game after slipping the puck past goaltender Ryan Nie while being dragged down to the ice.
Hogs defenseman Luke Frishaw then laid out Kalamazoo's Nick Bootland on an open-ice hit that forced Bootland to cough up the puck. Nicolas Corbiel pursued the play down the ice, and after picking up a rebound from Chaz Johnson, fired the puck past Nie to give Rockford a 3-1 advantage.
Blueliner Corey Hessler further extended the lead when he one-timed a faceoff win from Preston Mizzi, propelling the IceHogs to a 4-1 lead and chasing opposing goaltender Nie at 13:15 in the middle stanza.
Kalamazoo goaltender Tom Askey replaced Nie in net and was quickly peppered with shots from the Hogs' unrelenting attack. Defenseman Dan Boeser completed a two-on-one rush with Betts and shelved his second goal of the playoffs, before Bruce Watson capped the second-period scoring at 19:34 when he swiped in a goal from the backside to make it 6-1 in favor of the IceHogs.
That score would stand through the third period, with Cloutier making 10 saves for Rockford and Askey turning away eight shots in the IceHogs' 6-1 victory.
Both Corbeil (1g, 2a) and Betts (2g, 1a) finished with a game high-tying three points in the contest.
Season Tickets for 2017-18 on Sale Now: Don't miss a moment of the action by reserving your seats for the IceHogs 19th season of professional hockey and 11th as the top AHL affiliate of the Chicago Blackhawks. Opening night is Oct. 14 and ticket packages begin as low as $105 for a seven-game mini pack. Please contact us at (815) 847-6399 or by visiting icehogs.com to claim your spots for this upcoming season.