COLONIAL CUP FLASHBACK: ICEHOGS ERUPT FOR 6 GOALS, STAKE SERIES LEAD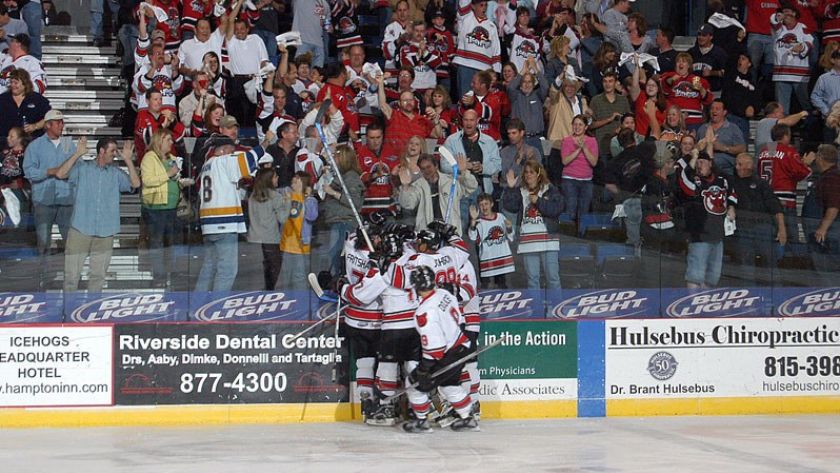 ROCKFORD, Ill. – Kevin Ulanski scored two goals, Frederik Cloutier made 28 saves and the Rockford IceHogs snapped a two-game skid with a 6-1 thumping of the Kalamazoo Wings in Game 5 of the Colonial Cup Championship series.
The home team has now won each of the first five games of the finals, with the Hogs triumphing tonight to notch a 3-2 overall lead in the best-of-seven series.
Ulanski continued his dominance on home ice with his fifth multi-point game at the Rockford MetroCentre this postseason. The winger began his two-point effort by picking off a pass from Chris McAllister and beating Wings goalie Ryan Nie to put Rockford up 1-0 just 1:06 into the opening period.
Before Ulanksi potted his second goal, Mike Letizia ripped in his first postseason tally at 2:31 to up the Hogs' advantage to 2-0.
Kalamazoo center Glenn Detulleo would cut the lead in half on a power-play tally set up by Tyler Kindle, but Ulanksi lit the lamp in the waning minutes of the opening frame to widen the IceHogs' lead to 3-1 at 19:18.
Ulanski has now totaled 11 points (3g, 8a) in eight home games during the 2006-07 playoffs.
Jason Ralph then extended Rockford's advantage to 4-1 on a breakaway marker and long pass from Matt Gens at 2:08 into the second period. IceHogs center Bryce Cockburn made it 5-1 less than three minutes later with his first goal of the playoffs, knocking a Nathan Lutz rebound past goaltender Nie at 4:52.
Preston Mizzi ultimately capped the scoring and Game-5 victory on a power-play goal with only eight seconds remaining in regulation. He has totaled just three points this series after producing 17 points through the first two rounds of the postseason.
In net, Cloutier turned away all but one of Kalamazoo's 29 shots to earn his 11th win of the playoffs for the IceHogs.
Season Tickets for 2017-18 on Sale Now: Don't miss a moment of the action by reserving your seats for the IceHogs 19th season of professional hockey and 11th as the top AHL affiliate of the Chicago Blackhawks. Opening night is Oct. 14 and ticket packages begin as low as $105 for a seven-game mini pack. Please contact us at (815) 847-6399 or by visiting icehogs.com to claim your spots for this upcoming season.