COLONIAL CUP FLASHBACK: ICEHOGS EDGE WINGS WITH GAME 1 OT WIN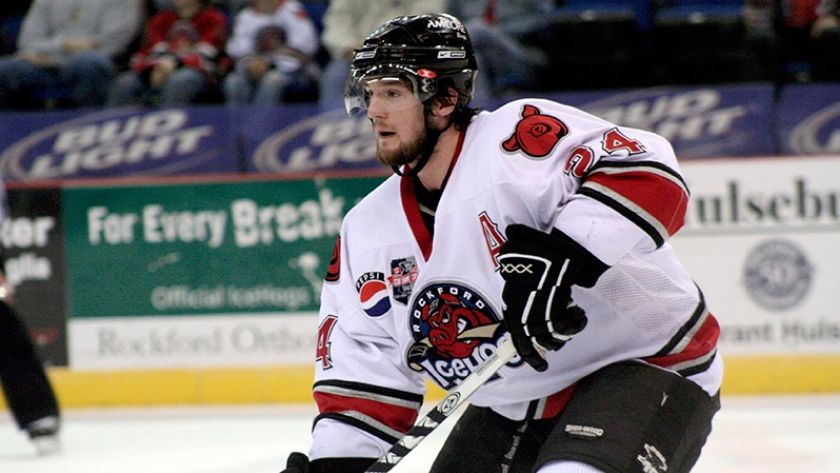 Rockford, Ill. – In the team's first ever appearance in the Colonial Cup Finals, the Rockford IceHogs used a goal from Matt Gens 4:44 into overtime to take a 3-2 win over the Kalamazoo Wings at the MetroCentre (now BMO Harris Bank Center). The IceHogs now lead the series 1-0.
A photo gallery from the contest is available here.

The game-winning tally was set up by a too many men on the ice penalty assessed against the Wings at 3:04 of the sudden-death frame. Nathan Lutz moved the puck to Jason Notermann, who found Gens for the strike to end the contest.

Rockford settled into the game with a pair of tallies in the second period to open up a 2-0 lead. Bruce Watson connected at 2:13 with assists from Corey Hessler and Bryce Cockburn. Chaz Johnson then increased the lead 2-0 when he capitalized off a chance set up by Benoit Doucet, flipping the puck past goaltender Ryan Nie just past the midway point of the period. Rockford dominated the second stanza, outshooting Kalamazoo 20-7 during the 20-minute session.

A penalty in the third allowed the Wings to close the gap. With Notermann in the box due to a high-sticking infraction, Glenn Detulleo made use of the man-advantage with a drive past Frederic Cloutier at 9:57. A little over four minutes later, Nick Bootland evened the game at 2-2 to force the contest into overtime.

The IceHogs outshot Kalamazoo 41-25, including 5-1 in overtime, in the win. Kalamazoo was led offensively by Bootland (1G, 1A) and Kory Karlander (0G, 2A).

Season Tickets for 2017-18 on Sale Now: Don't miss a moment of the action by reserving your seats for the IceHogs 19th season of professional hockey and 11th as the top AHL affiliate of the Chicago Blackhawks. Opening night is Oct. 14 and ticket packages begin as low as $105 for a seven-game mini pack. Please contact us at (815) 847-6399 or by visiting icehogs.com to claim your spots for this upcoming season.