COLONIAL CUP FLASHBACK: ICEHOGS CAPTURE CUP WITH 3-1 WIN OVER WINGS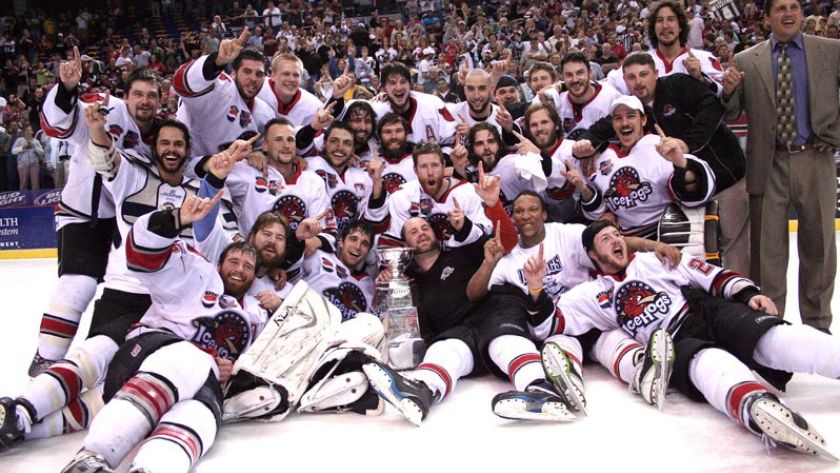 ROCKFORD, Ill. – Frederic Cloutier made 24 saves, Jason Notermann scored the game-winning goal and the Rockford IceHogs won the 2006-07 Colonial Cup Championship with a 3-1 victory over the Kalamazoo Wings in Game 7 at Rockford MetroCentre.
A capacity crowd of 6,236 watched the IceHogs close out their final season in the United Hockey League with the franchise's first league championship.
Kevin Ulanski continued his hot streak, opening the scoring for the Hogs with an unassisted, short-handed goal, at 2:47 of the first period. Ulanski netted four goals in the last three games and finished the postseason with a team-high 21 points (8g, 13a) in 17 contests.
Kalamazoo's left-winger Nick Bootland evened the score at 9:08 in the first period when he ripped his fifth power-play goal of the playoffs. The strike stood as the only goal Cloutier allowed on 25 shots in his 12th playoff win.
The two teams remained deadlocked until 6:11 in the second period, when Rockford winger Notermann potted what proved to be the game-winning goal on a feed from defenseman Matt Gens. With the assist, Gens finished the 2006-07 postseason having led all Rockford defensemen with 13 points and 11 assists.
The Hogs maintained their one-goal advantage into the late stages of the the third period. With the championship on the lnie, Nicolas Corbiel then sent the hometown fants into a frenzy with an insurance goal with only 1:33 left to play, effectively clincing Rockford's first title in franchise history.
The IceHogs concluded the year at 48-21-7 during the regular season, and 12-5-0 during their historic championship run.
Season Tickets for 2017-18 on Sale Now: Don't miss a moment of the action by reserving your seats for the IceHogs 19th season of professional hockey and 11th as the top AHL affiliate of the Chicago Blackhawks. Opening night is Oct. 14 and ticket packages begin as low as $105 for a seven-game mini pack. Please contact us at (815) 847-6399 or visit icehogs.com to claim your spots for this upcoming season.