CLENDENING PICKING UP WHERE HE LEFT OFF WITH ICEHOGS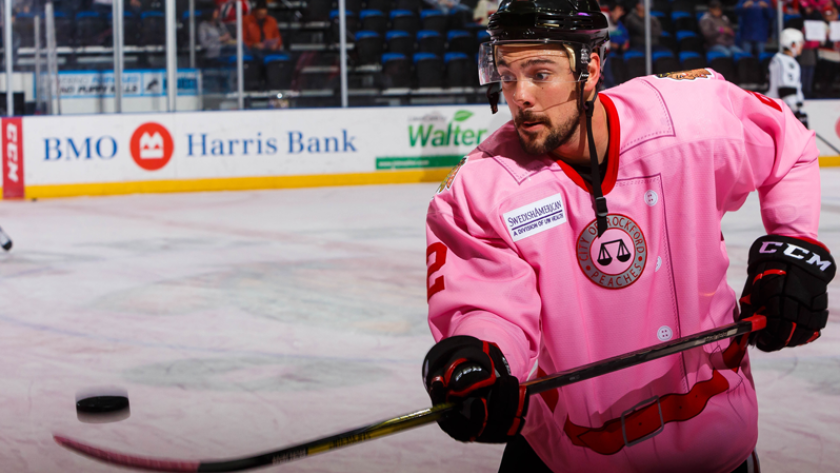 ROCKFORD, Ill. – After 189 games with the Rockford IceHogs and Chicago Blackhawks, defenseman Adam Clendening was traded in 2015 to the Vancouver Canucks for a player with whom he now shares a blue line – Gustav Forsling.
Now, following a Jan. 11 trade from the Arizona Coyotes, Clendening is back to finish what he started in Rockford.
"I've been in a couple of different places, but it's kind of funny how everything goes full circle. It's great to be back; this is a great organization that treats its players very well.
"The training staff and equipment staff are all the same. It's nice to come back to a place where you've had a lot of success, and I think that helps make it a little more comfortable and puts your mind at ease than anything else," said Clendening.
Clendening indeed had "a lot of success" during his previous time with the IceHogs. He was named a first-team AHL All-Star in 2013-14, earned his first call-up to the NHL with the Blackhawks in the 2014-15 season and has worked his way into fourth place all-time among IceHogs players with 103 assists in 193 games played.
Clendening has also now played for five different organizations in three years since his initial departure from Rockford. And while repeatedly being the "new guy" might seem daunting, he says the trades, call-ups and acquisitions are an important part of growing as a player.
"You get different experiences (playing for multiple teams), but if you stay in one place for your whole career, you're probably doing something right. You look at superstars getting traded, it's very, very rare," he said, "So switching organizations is something most, if not every player, will deal with at one point. I think it's part of the process, part of maturing and part of developing your game."
And as for his own development and growth, Clendening credits his ability to excel in a certain area while still remaining a strong multi-use player for his longevity.
"Learning how to round out your game and fit into different roles can keep you around the League. I think every player around the League has a niche, so remaining really good at what you already do and rounding out the rest of your game is key.
"I would say (my niche is) puck-moving. Making a good first pass, getting out of my own end cleanly and being able to quarterback the power play," he said.
Clendening's impressive earlier performances with the IceHogs certainly provide good ground to build on in his return. But this time around, the fan-favorite defenseman is also looking to fill some new responsibilities.
"(I'd like to) maybe take a little bit of a different role. Towards the end of my first time here, I actually wore a letter for a little while and then got called up. Being a bit of an older guy on a team of 12 or 13 rookies and knowing the town, knowing the staff, I'd like to take a little bit more of a leadership role," he said.
Clendening has helped to spur the IceHogs to a 4-2-1-1 record since his reacquisition, leading the team with 1g-7a-8pts in eight games since his return. But despite not missing a beat in terms of on-ice production, he still has to adjust to what is now the 11th roster he's joined since 2014-15.
"I'm still the new guy here," said Clendening.
"These guys have played together since September, so I'm just trying to fit in and help the team win."
Next Home Game: Friday, Feb. 2 | Rockford vs. Manitoba Moose (7 p.m.)
The IceHogs take on the Central Division-leading Manitoba Moose on Friday, Feb. 2 for Jake Smolinski bobblehead night. Puck drop is at 7 p.m., and the first 2,500 fans in attendance will receive a free bobblehead of Oakland Athletics outfielder and Rockford native, Jake Smolinski. Tickets can be purchased at IceHogs.com, by calling (815) 968-5222 or in-person at the BMO Harris Bank Center Box Office.