CLENDENING CONTINUES TO KEEP HIS EYE ON THE PRIZE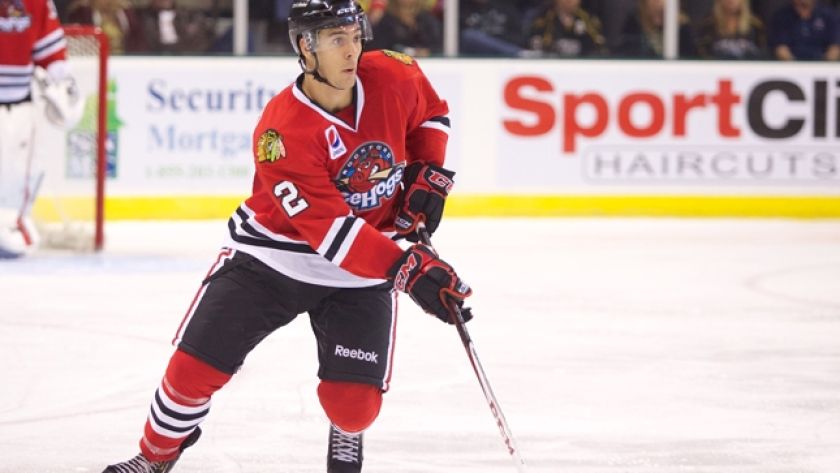 Rockford, Ill. - The 2014 Chicago Blackhawks Prospect Camp boasted many qualified players who were working hard to get noticed by Blackhawks executives. If noticed, players have the opportunity to make a step up into playing in the NHL and either leave behind their AHL or college careers.

This year's prospect camp marked the third for defenseman Adam Clendening. At the camp, Clendening continued to work on his defensive game in an effort to work towards his goal of making the Blackhawks in the fall.

Clendening is aware of the fact that the Blackhawks are potentially looking to slot in a few players, but he is not letting that worry him while he is participating at prospect camp.

"They're still over the cap and there is some possibilities of things to happen. So it's in the back of your head, but you can't really control it. It's not up to you," stated Clendening about the possible open positions with the Blackhawks.

The 21-year-old had a successful season playing with the Rockford IceHogs last season where he was able to rack up 59 points (12g-47a). Clendening set a team AHL record for goals and overall points by a blueliner. He was also able to set an IceHogs franchise record for assists by a defenseman.

For his efforts, Clendening received the title of Co-Best Defenseman in Rockford along with Klas Dahlbeck. And to cap off his second professional season in Rockford, Clendening was named a 1st Team AHL All-Star.

"I would like to play in the NHL as soon as I can, but I'm part of a good organization with a lot of good defensemen, so that's not really up to me," said Clendening. "Just play my game, and hopefully a spot opens up or they like what they see."

Management and coaching staff have not given Clendening a list of expectations thus far, but Clendening looks back on their projected goals they gave him last year in order to impress them for another season.

Clendening stated, "They gave me a bunch of goals last year and I met them all; nothing this year yet. Just being a plus player. Have a better year statistically- I did that. Basically just become better defensively, and they were happy with it and I got to play against the other teams' top lines, so it was nice."

In addition to further developing his defensive skills, Clendening is applying what he experienced in his two seasons with the IceHogs to advance his career.

"So just buying into the team first idea and the systems and not trying to do too much to be so selfish. It's a lot more about everybody else. That's what I've learned in my first two years. The more everybody else is happy, the more you're happy. That's one thing I've definitely paid attention to," said Clendening.

Clendening continues to capitalize on the benefits of playing for a successful organization, and being able to be a part of a team whose players focus on meeting and even exceeding personal and management expectations.

"There are a lot of good prospects in this organization. I'm really blessed to play with good players around me and being able to have the ability to make some plays to guys that can finish or also make more plays is a plus with being in this organization," said Clendening.

Clendening remains hopeful and focused while working hard to improve his game in the best way he can. Wherever Clendening ends up for the 2014-15 season, he will undoubtedly continue to keep his eye on becoming an everyday player in the NHL.

Season Tickets for 2014-15 Now on Sale: Reserve your seats today for the IceHogs 16th season of professional hockey and eighth as the AHL affiliate of the Chicago Blackhawks. Call (815) 847-6399 or visit icehogs.com to find a ticket package that fits your needs.