CHECKERS, LEIGHTON BLANK ICEHOGS 4-0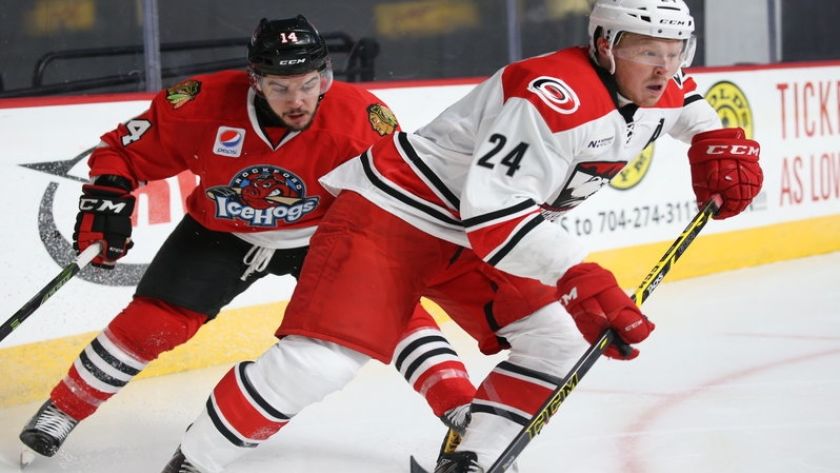 Charlotte, N.C. – The Rockford IceHogs (4-5-0-0) tried to rally late but could not find a way to slip a puck past Michael Leighton as the Charlotte Checkers (4-3-0-0) took a 4-0 win at Bojangles' Coliseum on Wednesday night.
After a scoreless first period, a three-on-two chance helped the Checkers break the scoreless tie in the second period. Andrew Poturalski took the puck in the high slot and found Brock McGinn skating down the left wing. McGinn fired a shot from the left circle and just inside the goalpost to give Charlotte a 1-0 lead at 10:53 of the frame.
Charlotte nearly broke through earlier in the period when Patrick Brown batted a puck out of midair while shorthanded, and it appeared the puck just rolled over the line. Upon further review, it was ruled that Viktor Svedberg scooped the puck off the line just in time to keep the game scoreless.
Niether side was able to break through in the first frame, as the two clubs played a strong defensive opening frame. The Checkers held a slight edge in shots on goal, leading Rockford 7-5 after 20 minutes of action.
In the third, the IceHogs had a near miss when Nolan Valleau rang a shot off the goalpost early in the frame, preventing Rockford from finding a game-tying tally. Shortly thereafter, a penalty helped the Checkers double their lead. Sergey Tolchinsky had a chance to line up a shot from the right circle, and he snapped it into the top corner of the net exactly 10 minutes into the third.
Charlotte tallied a pair of empty net goals, one while the IceHogs were on the power play, to eventually take the 4-0 win. Michael Leighton earned his record-advancing 48th career AHL shutout with 17 saves, while Lars Johnasson stopped 23 of the 25 shots he faced.
Next Home Game: Saturday, Nov. 12 vs. Charlotte Checkers. Puck drop is scheduled for 7 p.m. The IceHogs take on the Charlotte Checkers in the third of four season meetings. It is also Brovember Night in support of local prostate cancer research and education.