CARRUTH, HINOSTROZA HELP HOGS EARN A POINT IN CHARLOTTE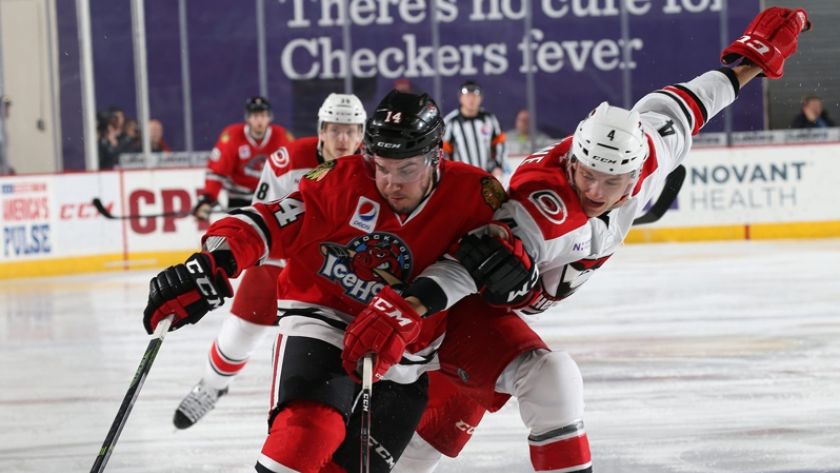 Charlotte, N.C. – The Rockford IceHogs (36-20-10-4) played their second-straight overtime game and fell by a 2-1 score to the Charlotte Checkers (36-27-3-5) to begin a five game road trip. It is the third time in seven games that IceHogs and Checkers have had a post-regulation game end in a 2-1 score, but the first that has not required a shootout.

After Rockford battled back to tie the game in the third, the Checkers sunk the IceHogs in the sudden death period. With one minute remaining, Justin Shugg skated down the left wall and fired a shot at the net. Goaltender Mac Carruth made the initial save but Anthony Camara dug the rebound free and stuffed it into the cage to grant Charlotte the win.

The IceHogs got off to a tough start in the first, as the Charlotte Checkers fired the first 14 shots of the game on Carruth. Charlotte was rewarded with the opening goal as well as Brendan Woods struck at 6:17 of the first. Brody Sutter fired a shot from the right side and Carruth was able to make the save. However, the rebound skipped to Woods who lifted a backhand from the left circle to give Charlotte the 1-0 lead.

When the horn sounded to end the opening frame, the Checkers had an 18-3 edge in shots over the IceHogs.

Rockford improved their play in the middle frame, but continued to trail 1-0 heading to the third. The best chance of the second stanza came from David Rundblad, who fired a point-blank slapper that was denied by Charlotte goaltender John Muse.

Erik Karlsson nearly doubled the advantage for Charlotte about five and half minutes into the third period but rang a shot from the slot off the crossbar as the IceHogs stayed within a goal of the hometown team.

Rockford finally broke past Muse at 8:47 of the third frame. Mark McNeill handed the puck to Cameron Schilling who fired a slapper at the net. Vince Hinostroza gathered the rebound and flipped the puck under the crossbar, forcing overtime in a 1-1 game.

Carruth took second star honors while stopping 40 of 42 shots in the loss. Muse ended the game with 21 saves for Charlotte.

Next Home Game: Friday, April 15, 2016 vs. Grand Rapids Griffins at 7 p.m. The first 1,000 fans will receive an IceHogs beach towel courtesy of Peak Fitness. Fans 21-and-older can enjoy drink specials and appetizers starting at 5:15 p.m.