CALIFORNIA KIDS DELIA, COMRIE MEET AGAIN IN CALDER CUP PLAYOFFS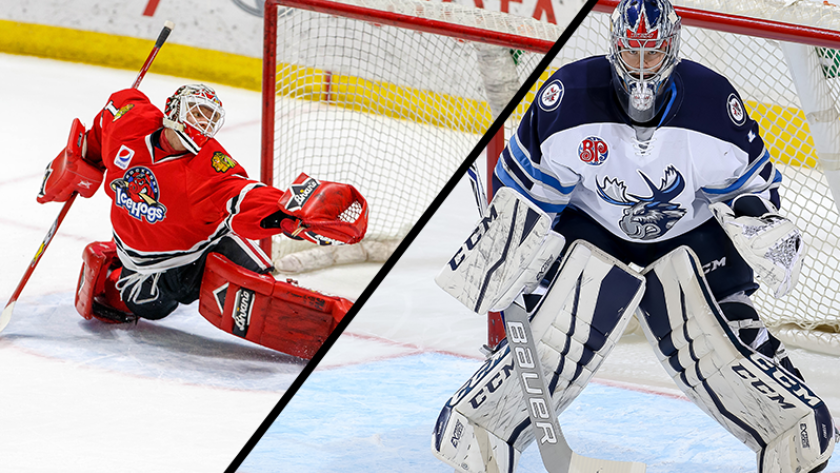 ROCKFORD, Ill. -- In 2018, it's hardly shocking to hear of professional hockey players having crossed paths before, either as teammates or opponents when they were kids. A quick Google search of Steven Stamkos and P.K. Subban returns a number of results containing a widely-shared photo of the pair as youth players on the same team in Toronto. The same goes for Stamkos with John Tavares and Alex Pietrangelo a bit later on in their careers.
And while those high-profile names stir up social media attention, the roots of the hockey community now run deeper and wider than just metropolitan Canada. Players like Rockford IceHogs netminder Collin Delia and Eric Comrie of the Manitoba Moose – two former California youth hockey standouts – represent a fresh wave of youth hockey teammates and opponents from newer hockey regions to breach the pro ranks.
Less than a decade ago, the pair faced off in the west-coast youth hockey scene a few times as they looked to make their mark as teenagers. Now, Delia and Comrie are backstopping their respective sides in the Central Division Finals of the 2018 Calder Cup playoffs.
"We played against each other when I was 14 or 15, I think. He was younger and a lot better, on the better team and had all the cool gear," said Delia.
Since then, both goalies have individually worked their way through junior hockey and sat on the doorstep of hockey's pinnacle for much of this season. But on March 29, 2018, Rancho Cucamonga-native Delia joined the list of now-44 NHLers from the Golden State as he made his NHL debut for the Chicago Blackhawks against none other than Eric Comrie and the Winnipeg Jets.
"It was a pretty special experience in general," said Delia, who stopped 27 shots to earn his first NHL victory in the game, "But it was pretty cool to have two California goalies in net…it's great for the sport, for other goalies in California to see that and see that it's possible."
The sizeable growth of hockey across North America has seen some non-traditional markets blossom into hotbeds. California alone boasts three NHL and AHL teams alike, and has produced the sixth-highest number of NHL hockey players among U.S. states with 44, according to hockey-reference.com. And according to Comrie, who started three contests for the Jets in 2017-18, the unexpected strength of the hockey scene in sunny C.A. is something you have to see to believe.
"It's unbelievable, really. Just to see how much California hockey has grown is pretty incredible," said the Canadian transplant, who made his way stateside at a young age, "When I moved there from Edmonton when I was 10 years old, it was incredible to see how big hockey is in the state, how good the coaching is. Coming from Canada, you're not really sure about California…it wasn't known as a hockey state. But to go there and see how many people are actually making it to pro hockey is pretty incredible."
Realistically, comparing the popularity of hockey in a place like California to a Canadian city, particularly one with an NHL club, is unfair. But the availability of resources and training for a developing player – that's where California has an edge, at least in Comrie's eyes.
"If I would have stayed in Edmonton, I don't think I would have made pro hockey. Moving to California really helped to elevate my game. When I was young, I wasn't a great player, so I don't think I would have had the same opportunity in Edmonton that I had in California. In Edmonton, everyone plays hockey, so when you go to a place like California, you get more one-on-one time with the coaches, you get a little more specialized training and I think that really helped my game a ton," he said.
While Delia and Comrie manned opposite cages on a few occasions, they never really acquainted themselves with one another. But since each has continued his development and found a way up the ladder to the AHL, Delia remains aware of some of his Golden State peers, Comrie included.
"I wasn't really looking too far ahead (when I turned pro), but you kind of keep up with certain guys and every now and then catch a box score or something, just keep tabs and see how guys like him and other California guys are doing," said Delia.
After facing off once in the AHL regular season (a 4-3 Manitoba overtime win on Feb. 2), and once in the NHL, Delia and Comrie have both starred in the postseason – Delia has won six consecutive starts in his first taste of postseason hockey, while Comrie lifted the Moose to a first-round upset over the Grand Rapids Griffins in five games.
And in the short term, at least, the two former California combatants have their eyes locked on the same goal: winning the Calder Cup.