BUTLER, ZOLNIERCZYK STAR AS ADS TOP HOGS 5-4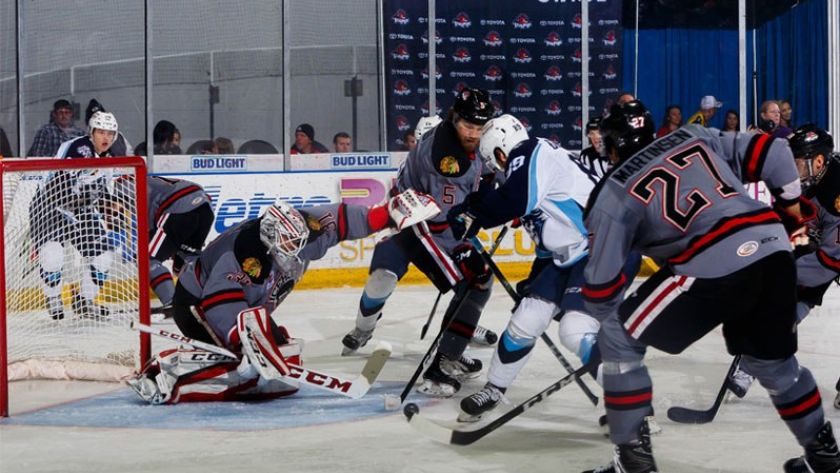 ROCKFORD, Ill. – Bobby Butler potted his second goal of the game with 58 seconds remaining to force overtime and Harry Zolnierczyk netted the shootout winner to lead the Milwaukee Admirals over the Rockford IceHogs 5-4 at the BMO Harris Bank Center Sunday evening.
Milwaukee's Justin Kirkland and Rockford's Tomas Jurco scored for their respective sides in the shootout, but Zolnierczyk's third-round tally marked the difference. The forward rifled a wrist shot low, stick-side past goaltender Matt Tomkins to seal Milwaukee's win.
The two teams traded goals for the majority of the game. Jurco opened the scoring in the first period, posting his third goal in his last four games to give Rockford a lead halfway through the opening frame, before Milwaukee responded just 1:26 into the second period.
Matthew Highmore then deflected a Viktor Svedberg pass into the back of the net for his team-leading 17th goal of the season, but the Admirals leveled the score once more heading into the final stanza.
The teams then again swapped leads in the third period, as Butler's first marker of the game gave Milwaukee its first lead 1:10 into the period. Rockford returned fire, with Tanner Kero posting his second goal of 2017-18 to tie the game. Tyler Sikura then posted his fifth goal in seven games to put the Hogs ahead, but Butler's late equalizer ensured extra time for the two teams.
Tomkins posted a career-high 33 saves in the defeat, while Milwaukee's Anders Lindback turned away 39 pucks for his 17th win of the season.
Next Home Game: The IceHogs take on the Bakersfield Condors on Tuesday, Jan. 23 at 7 p.m. at the BMO Harris Bank Center. The contest marks another Fas Fuel Winning Weekday in 2017-18. If the Hogs win, tickets from Tuesday's game can be redeemed for a ticket of equal or lesser value to the following Fas Fuel Winning Weekdays game on Wednesday, Feb. 7. Fans can also enjoy $2 tacos, select beer, and companion tickets as part of Taco Tuesday. Tickets can be purchased at IceHogs.com, by calling (815) 968-5222 or in-person at the BMO Harris Bank Center Box Office.