BUD LIGHT HOG TALK SEASON FINALE TONIGHT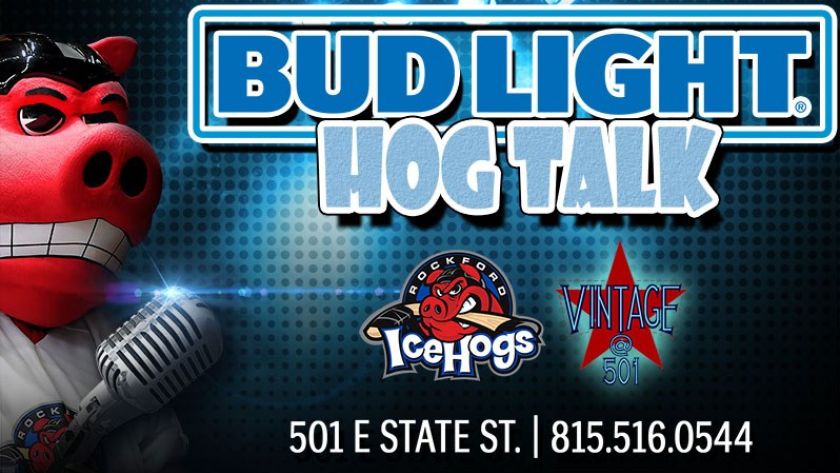 Rockford, Ill. – The final edition of Bud Light Hog Talk at Vintage @ 501 for the 2016-17 season takes place tonight, Monday, April 3, at 6 p.m. Fans are invited to come out to Vintage 501 to enjoy delicious food and drinks and have a chance to win IceHogs prizes.

The popular talk show is broadcast live from Vintage @ 501 in downtown Rockford once a month from 6-7 p.m. Tonight's show (Apr. 3) marks the sixth and final one of the season and features forward Michael Latta, goaltender Jeff Glass, and Chicago Blackhawks Director of Player Development Mark Eaton.

Once a month, from October through April, IceHogs broadcasters Bob Mills and Kevin Peters help fans get to know players and coaches, review the previous week's games and look ahead to the upcoming schedule during Hog Talk. Guests are subject to change without notice.

The live show is a great chance for fans to meet the players and coaches, ask questions, sign up to win prizes courtesy of the IceHogs and enjoy some great food and drink specials at Vintage 501 (501 E. State St.).

For those unable to attend the show in person, the broadcast will be available streaming live on WXRX.com and will be availabile through www.IceHogs.com later in the month.