BOWL WITH THE ICEHOGS MARCH 11 AT THE CHERRY BOWL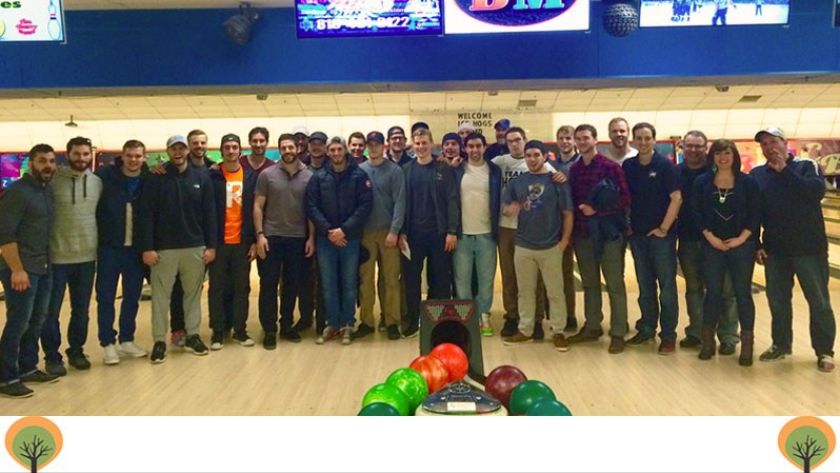 Rockford, Ill. – The Rockford IceHogs today announced they will host their eighth annual Bowl-A-Thon on Saturday, March 11 at The Cherry Bowl (7171 Cherryvale N Blvd #1) from 1-3 p.m.
Registration for the Bowl-A-Thon is available beginning Thursday, Jan. 19 at 10 a.m. Fans can register by calling the IceHogs Front Office at (815) 986-6465. The deadline to register is Friday, Feb. 24.
IceHogs players, coaches and other team personnel will be at Cherry Bowl throughout the afternoon on March 11 to bowl with fans and raise money for the IceHogs Charitable Foundation. A portion of the afternoon's proceeds will also benefit Families with HD Rooted in Hope, Inc, a nonprofit foundation that provides support and services to families affected by Huntington's Disease.
Admission to the popular fundraiser is $50 per individual bowler. Teams of four bowlers may also register for a group rate of $175 per team, with each registrant receiving two games of bowling, shoe and ball rentals and a raffle ticket for a chance to win a variety of great prizes.
Groups of four may also upgrade their Bowl-A-Thon package for an additional $50 to guarantee their party bowls with an IceHogs player. New this year, groups who purchase the $50 upgrade will be entered into a lottery to determine which IceHogs player they will be paired with for the event. Group registration to bowl with an IceHogs player is limited to 20 teams, and is available on a first-come, first-served basis.
All remaining IceHogs personnel will be randomly assigned to a bowling lane, but fans are highly encouraged to mingle with the entire team throughout the event. Fans are also welcome to get autographs and take pictures with their favorite IceHogs players and coaches during the fundraiser.
For fans not interested in bowling, they can take advantage of $10 viewing tickets. Each viewing ticket will grant the purchaser with access to the event along with a raffle ticket. The viewing tickets can be purchased in advance or at the door at the event.
In addition to bowling, this year's fundraiser will also feature both a 50/50 and premium-prize raffle. Premium tickets will be sold for $5 each (or $20 for five tickets), and prizes include Chicago Blackhawks tickets, game-worn IceHogs jerseys, a suite for an IceHogs game, Club Lounge tickets to a Hogs home game and an IceHogs team-signed stick.
A portion of proceeds from Bowl-A-Thon and each IceHogs raffle will go to benefitting Families with HD Rooted in Hope, Inc. The organization was founded and is supported by IceHogs captain Jake Dowell, and Jake's mother, Vicki, as a resource to assist families affected Huntington's Disease.
Jake lost his father, John, to Huntington's Disease in 2014, and his older brother, Luke, is currently battling HD. Jake received news in December, 2015 that he does not carry the gene affected by Huntington's Disease.
---
ABOUT HUNTINGTON'S DISEASE
HD is a fatal, incurable genetic disorder that progressively breaks down the nerve cells in the brain, deteriorating a person's physical and mental functioning. The disease is passed genetically, with children of affected parents having a 50-50 chance of also receiving the faulty gene that causes the disease.
Founded by Vicki and Jake Dowell, families with HD Rooted in Hope, Inc. is a foundation dedicated to providing support and services to families affected by Huntington's Disease.
The nonprofit organization seeks to: Assist families in understanding Huntington's Disease and ways to live through HD with courage, hope and love; Provide guidance to young couples as they consider options related to having children and support them in their decisions; And partner with organizations dedicated to assisting HD families live normal lives to the extent feasible
Vicki's husband, John, was diagnosed with Huntington's Disease and passed away in 2014. Her son – and Jake's older brother – Luke, is currently battling the juvenile form of HD. Jake received news in December, 2015 that he tested negative for Huntington's Disease.
Families with HD Rooted in Hope, Inc. can be contacted at (715) 956-1865. Donations can be mailed to 600 Graham Ave. #507 Eau Claire, WI, 54701.