BLUES FLAME FRIDAYS BACK IN 2017-18, COURTESY OF VINTAGE 501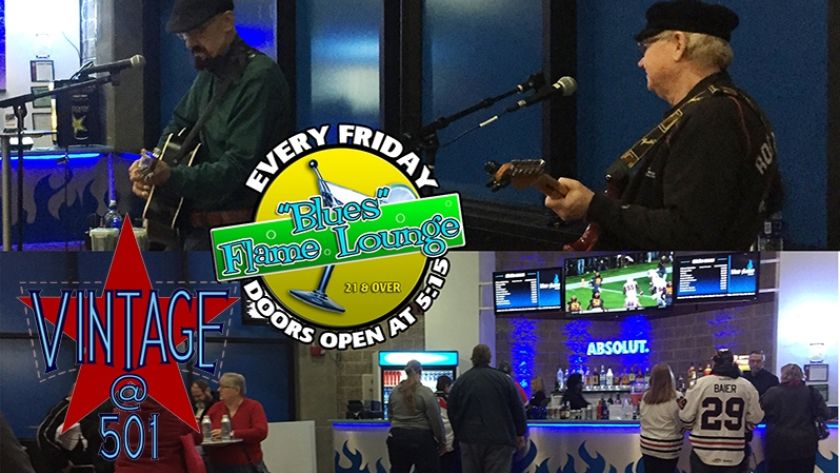 Rockford, Ill. – For the fourth straight season, the Rockford IceHogs are helping fans kick-start the weekend before each of the team's 12 Friday games at the BMO Harris Bank Center. Fans ages 21 and over can enter the building early for a Blues Flame Friday pregame party, courtesy of Vintage @ 501, all season long.
Those in attendance can enjoy live music, courtesy of the Crossroads Blues Society, free appetizers and exclusive drink specials. The doors located at the upper concourse entrance on Elm St. will open at 5:15 p.m. to allow fans to relax and enjoy the amenities prior to watching the IceHogs in action.
A valid ticket to see the IceHogs is required for admittance for each event date. Full-season and half-season tickets, as well as mini-packs and flex plans, are on sale now at IceHogs.com. Single game tickets will go on sale in September.
The IceHogs are hosting Blues Flame Fridays, courtesy of Vintage @ 501, on the following dates. The artist performing each day is listed as well. To learn more, click here.
Date:
Opponent:
Performing Artist:

10/20/17
10/27/17
11/10/17
11/24/17
12/1/17
12/22/17
12/29/17
1/26/18
2/2/18
2/9/18
3/23/18
4/13/18

vs. Grand Rapids
vs. Milwaukee
vs. San Antonio
vs. Iowa
vs. Chicago
vs. Chicago
vs. Iowa
vs. Ontario
vs. Manitoba
vs. Milwaukee
vs. Milwaukee
vs. Chicago

Andrew Robinson
Valarella
Paul Hieser
Hobson's Choice
Paul Hieser
Andrew Robinson
Matthew Flamm
Recently Paroled
Valarella
TBA
Hobson's Choice
Recently Paroled
About Crossroads Blues Society:
Crossroads Blues Society, or CBS for short, is a 501(c)3 non-profit organization that primarily raises funds in order to host Blues In The Schools Programs in the greater Rockford area of northern Illinois. These programs are fully funded by CBS and there is absolutely no cost to area schools for these programs. CBS has done this since May 2002 and has done 243 programs for 58,220 students in northern Illinois since then. Founded in 1994 and incorporated shortly thereafter, CBS had its biggest year ever this past year with 61 BITS programs and over 50 shows for the community! CBS was the 2014 recipient of the Blues Foundation Keeping the Blues Alive Award for Foundation Affiliates! CBS was also inducted into the Chicago Blues Hall of Fame in 2014. To read more, click here.
Season Tickets for 2017-18 on Sale Now: Don't miss a moment of the action by reserving your seats for the IceHogs 19th season of professional hockey and 11th as the top AHL affiliate of the Chicago Blackhawks. Opening night is Oct. 14 and ticket packages begin as low as $105 for a seven-game mini pack. Please contact us at (815) 847-6399 or visit icehogs.com to claim your spots for this upcoming season.