BLOG HOGS: #MOMOMENTS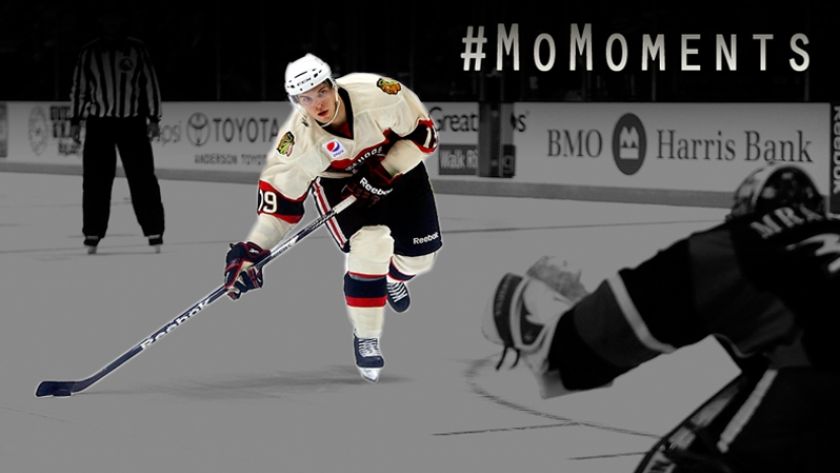 Leading up to this Saturday's Jeremy Morin Bobblehead Giveaway, the IceHogs are celebrating their all-time leading goal scorer. Make sure to share your favorite Morin memories on the IceHogs Facebook (/rockfordicehogs) and Twitter (@goicehogs) accounts all week long, using the hashtag #MoMoments!

Long-term fans of AHL teams quickly become experts of letting go.

Most of the time they don't even have a choice. The AHL - like most minor league sports institutions - is at its core a development league, where transactions and roster turnover are as commonplace as the colorful and wacky promotions created by its member teams.

But along with the distinction of being the proverbial front door to the NHL, comes a bittersweet truth to the supporters of AHL teams: if a player is performing well, chances are he won't be in town for much longer. Talent giveth, and talent taketh away, so to speak.

That being said, winger Jeremy Morin had plenty of time to endear himself to the Rockford faithful, playing in 208 games over the course of five seasons in the Forest City. Only six players have appeared in more games in an IceHogs jersey than him, and only his long-time running mate Brandon Pirri (200 points) has scored more points than Morin's 158. No one, however, has more than Morin's 81 goals in an IceHogs uniform.

"Jeremy was one of the best natural goal scorers in Rockford's AHL-era," said Mike Peck, the IceHog Director of Business Operations and broadcaster. "It was definitely fun getting to watch him mature from a prospect to a dominant AHL player."

A 2009 second-round draft pick of the Atlanta Thrashers, Morin came to the Blackhawks organization in the trade that shook up the Chicago roster in the wake of their 2010 Stanley Cup Championship. The Blackhawks acquired the Auburn, N.Y. native, along with Marty Reasoner, Joey Crabb and first and second-round picks in the 2010 draft, in exchange for Dustin Byfuglien, Brent Sopel, Ben Eager and Akim Aliu.

The young forward, only 19 when making his professional debut in Rockford on Oct. 9, 2010, didn't waste much time becoming an impact player in the Chicago system. Morin earned his first NHL recall within a month of playing his first AHL game, making his Blackhawks debut on Nov. 6, 2010 and scoring his first NHL goal in his sixth game on Dec. 8, 2010.

While Morin played bits and pieces of his first four professional seasons with the big club in Chicago, he thrived during his time in Rockford. After only suiting up in 22 games his rookie season with the IceHogs, Morin exploded for 40, 58 and 47 points respectively over the next three campaigns. His 58 points in 2012-13 set an AHL franchise record for points in a single season by a left winger, and his 24 goals in 2013-14 paced a Rockford club which he only appeared in 47 games for. Morin was also named the IceHogs' MVP that season.

But for the product of the United States National Team Development Program and the Kitchener Rangers of the Ontario Hockey League, Morin's offensive upside is just one facet of his game. A player who is equal parts skilled and scrappy, Morin seemed to enjoy joining a post-whistle scrum or throwing a big hit just as much as he enjoyed scoring goals. Racking up 301 penalty minutes in his time with the IceHogs, Morin relished the role of agitator as well as sniper.

"Not only could he score, he was able to provide some of the grit that your team needs," Peck explained. "That combination of skill and sandpaper was a good mix for fans in this area, and that is why Morin was a fan favorite."

Morin's time in the Chicago organization came to an end on Dec. 14 when the Blackhawks dealt him to the Columbus Blue Jackets for defenseman Tim Erixon. That is not to say that his impact on IceHogs fans has gone anywhere. Morin left his name etched in the franchise history books and in the memories of those who enjoyed his bone crushing hits, his scoring talent and his electrifying enthusiasm. And now, after Saturday night, fans can make room for him (at least a likeness of him with a spring for a neck) on their mantles and office desks alike. That is not something the revolving door of the AHL will make them part ways with.