BLACKHAWKS SURGE LATE, FALL ONE GOAL SHORT AGAINST WILD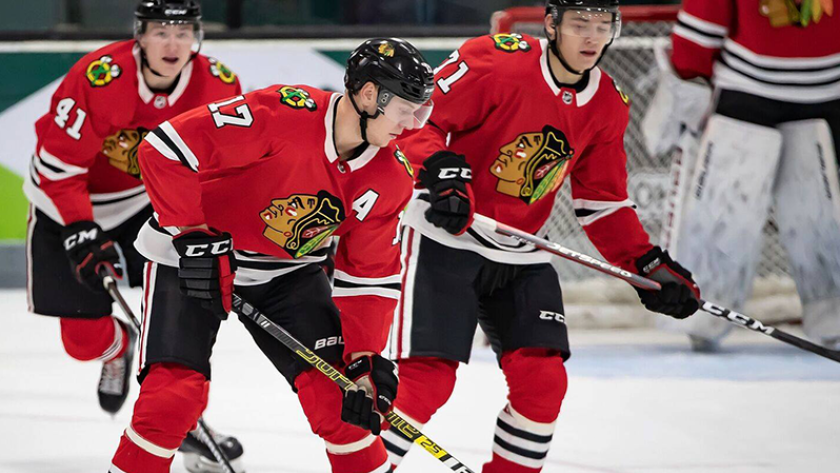 TRAVERSE CITY, MICH – The Chicago Blackhawks prospects broke up a shutout midway through the third period and rallied to pull within one goal, but the late comeback fell just short in a 3-2 loss to the Minnesota Wild in the final game of the 2018 NHL Prospect Tournament Tuesday night at Centre Ice Arena.
Captain Graham Knott netted his second goal of the tournament 5:53 into the third period to finally breach Dereck Baribeau and break up the shutout. Victor Ejdsell fired a shot on goal through traffic and Knott redirected the puck easily into the net to put Chicago on the board and make the score 3-1.
Radovan Bondra, who was skating in just his second game of the showcase, capitalized on the Blackhawks' constant pressure on net in the final period when he worked through traffic and picked up a loose puck on the doorstep. Bondra whipped a shot past Baribeau for the Blackhawks' second goal in a span of just 2:29 to pull Chicago within one goal with more than half of the third period to play.
In the end, Baribeau and the Wild held strong, surviving a 4-on-4 late in the game to preserve a 3-2 victory. Baribeau finished with 23 saves on 25 shots to earn his first win of the showcase. Darian Pilon, Alexander Khovanov and Mitch McLain each scored for Minnesota, which jumped out to a 3-0 lead early in the second period.
Blackhawks netminder Kevin Lankinen suffered his second loss in as many appearances with 19 saves tonight.
Chicago concluded the 2018 Prospect Tournament ranked fourth with an overall record of 2-2.
Season Tickets for 2018-19 on Sale Now:
Don't miss a moment of the action by reserving your seats for the IceHogs' 20th season of professional hockey in Rockford and 12th as the top AHL affiliate of the Chicago Blackhawks. The IceHogs' home opener is set for Oct. 13 and ticket packages begin as low as $105 for a seven-game mini pack. Please contact us at (815) 847-6399 or visit icehogs.com to claim your spots for this upcoming season.