BLACKHAWKS SEND 8 TO ROCKFORD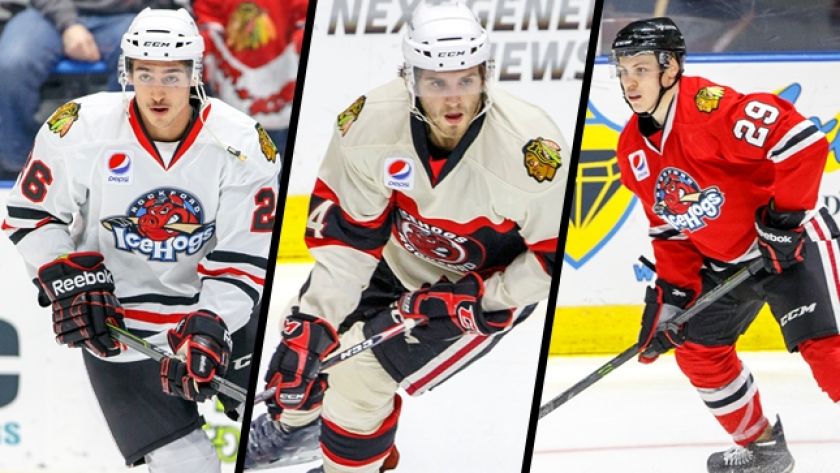 Chicago, Ill. - The Chicago Blackhawks announced today they have reassigned forwards Marko Dano, Ryan Hartman, Vincent Hinostroza, Brandon Mashinter, Dennis Rasmussen, and Garret Ross and defensemen Erik Gustafsson and Ville Pokka to the American Hockey League's Rockford IceHogs.

Hartman, 21, amassed 37 points (13g-24a) in 69 regular-season contests and three points (2g-1a) in eight postseason games with Rockford last season. Hartman also appeared in five games with Chicago during his rookie campaign, including his NHL debut on Feb. 13 vs. New Jersey, when he recorded three shots and two hits.

The West Dundee, Ill., native was Chicago's first-round pick (30th overall) in the 2013 NHL Draft.

Hinostroza, 21, joined the IceHogs following his sophomore season with Notre Dame. In five games with Rockford during 2014-15, the Bartlett, Ill. native dished out two assists. In two seasons with Notre Dame, Hinostroza totaled 19 goals and 57 assists in 76 career games.

Mashinter, 27, tallied 32 points (17g-15a) and 57 penalty minutes in 69 games for the IceHogs last season. His 17 goals in 2014-2015 ranked fourth best for Rockford.

The Bradford, Ontario native has appeared in a combined 23 NHL games, between the San Jose Sharks and the New York Rangers. He has earned 194 points (96g-98a) and 527 penalty minutes in 398 career AHL games with Rockford, Worcester, Connecticut, and Hartford.

Pokka, 21, is entering his second pro season after recording 30 points (8g-22a) as a rookie with the IceHogs. For his efforts during the 2014-15 season, Pokka was named to the 2014-15 AHL All-Rookie Team.

Rasmussen, 25, registered 27 points (13g-14a) and a +9 plus/minus rating in 73 regular-season games with the IceHogs last year in his North American debut; he added five shots on goal in seven Calder Cup contests.

The Vasteras, Sweden, native posted 85 points (40g-45a) in 149 career Swedish Hockey League games with Växjö from 2011 to 2014. Rasmussen has also appeared for Sweden in international competition, helping Sweden to bronze medals at the 2014 World Championships and the 2010 World Junior Championships.

Ross, 23, racked up 43 points (21g-22a), 100 penalty minutes, and a plus/minus rating of +20 in 69 regular season games with the IceHogs; he added two goals and one assist in eight postseason contests. Ross' 21 goals and +20 rating in 2014-15 ranked second best for the IceHogs.

Dano, 20, and Gustafsson, 23, are newcomers to Rockford. Dano split time between the Columbus Blue Jackets and the Springfield Falcons last season. He notched 21 points (8g-13a) with the NHL club while chipping in 19 points (11g-8a) in 39 games with the Falcons.

Gustafsson has spent the previous two seasons with Frolunda HC of the Swedish Hockey League where he has posted six goals and 43 assists.

Next Home Game: Saturday, Oct. 17 vs. Texas Stars. The IceHogs open their 17th season at the BMO against Texas at 7 p.m., and the first 5,000 fans to the game will get an IceHogs calendar courtesy of Mulligan's. For tickets visit IceHogs.com or call (815) 968-5222.